Sole boys diver jumps into new season
Derek Blunt, Sports Editor
December 8, 2017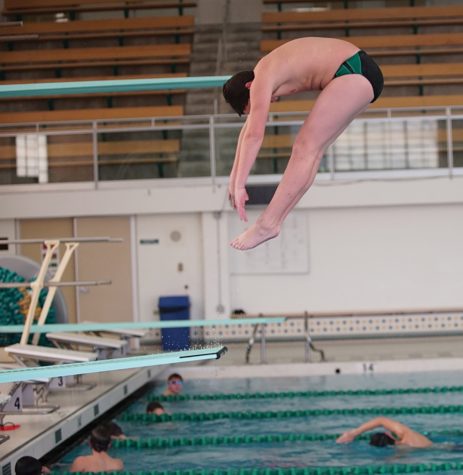 Gaping at the scoreboard during one of junior Ryan Cohn's last dives of the 2016-2017 Glenbrook North Sectional meet, Jessica Roby, boys diving head coach, realized that Cohn had a chance to beat the GBN diving record for an 11-dive score. Not only was it a GBN record, but it was set by Roby's son when he attended GBN.
"I texted my son who was coaching his own divers at their sectional meet, and I was like, 'Jonathan, I don't know, but [Cohn] might break your record,'" said Roby. "'If he nails these next two dives, you know, that record is gone.'"
Cohn, who is the only diver on the boys diving team, said he broke the school record with a score of 492.65 at the sectional meet in which he had some of the best dives of his life.
"[Breaking the school record] was kind of weird and cool at the same time because it was [Roby's] son's record that I broke, so she was happy for me and also … bummed for her son," Cohn said.
Cohn has been a diver at GBN since he was a freshman, competing at the IHSA State Diving Meet the past two years. He placed 28th freshman year with a five-dive score of 174.85 and placed 32nd sophomore year with a score of 178.10.
According to Cohn, Roby was unable to go to the practices prior to sectionals due to a surgery she had that week.
"My coach was out [because of] a neck surgery the week before sectionals, but she was able to FaceTime me during two of the practices," Cohn said.
Roby said she and Cohn have a great relationship that Cohn can rely on in lieu of having diving teammates.
"We have a fun relationship on deck," said Roby. "We work hard, and he knows there are expectations, but last year was Ryan's first year without a teammate, … so we developed a 'hashtag wall,' so if something happened, like a smack, [a failed attempt at a dive], or he wouldn't fix something, we'd put up a hashtag like '#gofixit,' so we had our fun too."
According to Cohn, although he can bond with his swim teammates, he enjoys the benefits of being the only diver.
"[Being the only one on the team] helped me [be] more productive," said Cohn. "I didn't have time to waste talking to other people. I just got in [and] got out of the pool."
Cohn said one possible reason he is the only diver is because diving appears to be a dangerous sport.
"[The hardest part of diving] is the fear," said Cohn. "People can get to a place where they can flip, and they can twist and have good form, but …  you have to be willing to try the new stuff, and that fear [is] what keeps people back from succeeding."
Cohn said a part of diving is knowing your body will be fine after a "smack," even if it will be in your head for the next dive.
"[One time], I had just learned the dive a week before and then decided to do it in the meet, and then I got really lost and … pretty much got zeros on it," said Cohn. "[The landing] was a hard smack … right on my back."
Cohn said he aims to improve upon his last two trips at state, which he did not feel were his strongest meets.
"My goal is to be top 12 at state … but I think I'm going to be more focused on a score rather than [a] place because, dive-to-dive, I know where I'm at score-wise, but … place-wise I don't," said Cohn. "I just want to go out there and do the best I can."