Enthusiasm, unity motivate gymnastics team
Joey Harris and Lindsey Masterman, Page Editor and Editor-at-Large
February 2, 2018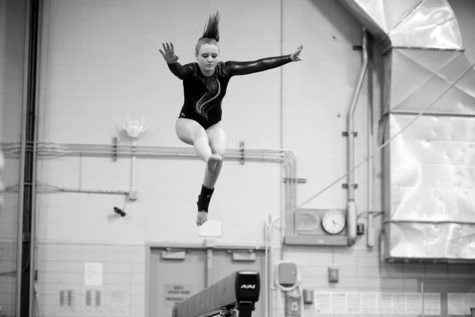 After taking a two-year hiatus from gymnastics, sophomore Lucie Abbott attended her friend's conference meet. Watching the gymnasts cheer each other on made Abbott miss being on the floor. She decided she would join the team the next year, but because she is a diver, her season overlapped with the gymnastics season by two weeks. Although she was unable to go to tryouts, she quickly earned a varsity spot and has helped the team maintain an average score of 139.27 points at dual meets as of Jan. 25, up over three points from last year's average.
"Coming back and being able to not beat myself up and get a bunch of new skills is really exciting," Abbott said.
As of Jan. 25, Abbott leads the team on floor with a top score of 9.35 out of 10, sophomore Molly Alcorn has the top beam score on the team with a 9.2 and senior Brittany Ullrich leads the team in vault and bars with a 9.5 and 9.45 respectively.
According to Julie Holmbeck, girls gymnastics head coach, after graduating only two seniors last year, the team has kept a lot of talent between its seven varsity members and hopes to achieve a 145 total point finish, which could put them in state-qualifying range. In a dual meet on Jan. 23, Glenbrook North earned a score of 142.9, the highest score in 12 years. GBN is in a competitive regional and sectional pool which makes the road to state difficult.    
"If we peak at the right time, I see them [competing] at state," said Holmbeck. "That's why I'm telling them now, 'This is the time for you to try new skills. This is the time for you to build your routines up. I'm not worried about you falling off [the beam.]' We want to have that happen now because we want them to peak in February."
Freshman Katie Dahlke said although the girls are competing against each other for positions and as individuals at meets, they put the team above themselves because they want to represent their school.
"I've found [high school gymnastics] to be a lot more exciting, … relaxing and calm," said Dahlke. "At meets we always are cheering and supporting each other."
Ullrich said the team's 139.70-117.25 victory against Evanston Township on Nov. 30 helped encourage them to work harder in practice.
"We just came in very strong at our first meet, and we were all really motivated after that because we knew … how much potential we could have," Ullrich said.
Ullrich said Abbott's return to gymnastics has benefited the spirit of the team.
"She's someone who brings the team up and … brings the most positivity to any of us," said Ullrich. "She always lifts us up if things aren't going well."
During a meet at Deerfield on Dec. 13, the gymnasts crowded together over a few mats, chatting and laughing before the events. When teammates began their routines, the conversations turned into cheers for the gymnasts. GBN lost that night 143.5-136.8, but even as the team's scores fell behind, the support continued.
"Even though they're challenging each other, they cheer each other on," said Holmbeck. "They're very supportive, which you sometimes don't see. This is an individual and a team sport, so you want to do really well for yourself, but you want to do well for your team, so you really have to be selfless and do what's best for the team."
Abbott said Holmbeck inspired her to work on beam, which she initially did not like. At her first practice, Abbott was shaky on the beam and had multiple mats beneath her for safety.
"[Holmbeck] told me if I was going to be part of the team, I had to try everything, and I tried to hit [the beam] with an open mind, and I actually started gaining skills and liking it more," Abbott said.
Abbott's top beam score is now an 8.75.
According to Holmbeck, gymnastics is a very mentally straining sport that challenges athletes to trust themselves. In the gym where the team practices, there is a whiteboard Holmbeck uses to inspire the girls by writing on the board the quotation, "Train like you're in first place. Compete like you're in first place." Then, team members wrote many other quotations on the board as a source of mental inspiration.
"I call my girls mental creatures, for, on a daily basis, [they] go through so many levels of mental stress and strength.
"They have to have the courage, confidence, determination and ability to attempt skills that are beyond normal," Holmbeck said.