Experience, team unity has baseball team swinging for success
Brandon Mankoff, Sports Editor
March 2, 2018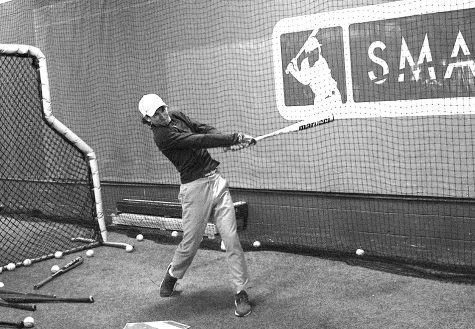 While struggling midway through his set of dumbbell chest press, baseball team members stopped what they were doing and ran over to cheer on senior Jack Garibaldi. The yelling and screaming echoed throughout the weight room, motivating Garibaldi to finish the set.
"I was on the fourth rep out of six when everyone came over, and it gets so loud you can't even think," said Garibaldi. "The only thing you need to do is just finish the rep."
Baseball Head Coach Dominic Savino said the attitude and mindset the team displays in the weight room brings out the selfless character of the team and is what the baseball program's culture is all about. He said senior Ben Boeke is a perfect example of a player whose actions positively reflect the selflessness of the baseball program.
"We talk to our players a lot of times, and one young man's name who comes up over and over and over being [an] unbelievably selfless player is Ben Boeke," said Savino. "[Boeke] played behind Jack Garibaldi at first base last year, and you would never know that by the way that they interacted. [Boeke] was always trying to help [Garibaldi] get better at first base. … So we are super excited about him being a part of our program. He's such a good athlete. We think he can contribute on the mound, potentially at first base [and] possibly in the outfield."
According to senior Daniel Spencer, the team did not perform as well as it would have liked to last season. They ended last season with an overall record of 16-18, finishing second in the CSL North and losing in the IHSA Regional Championship game to Warren.
Savino said an area the team struggled with last year was hitting. During the offseason and this past summer, the program has focused a lot on improving the team's offensive game, specifically bat speed development and enhancement.
"I think that will ultimately help the players become better hitters," Savino said.
Savino said there were very few players who graduated last year and that this year's team will have a wide array of experienced varsity players including five returning starters who saw significant innings in the field last year. He also expects the returning pitchers such as seniors Evan Barnes, Ben Harkey, Josh Fern and Garibaldi to have great years.
According to Garibaldi, this year there will be a separate varsity and JV team. Previously, there was only a varsity team for juniors and seniors, and players who sat on the bench during the varsity games got to play in the very limited amount of JV games. 
"I think [the transition will] maximize playing time for guys because typically in the past, we'd have two or three, roughly, varsity games during the week and then a Saturday double header," said Garibaldi. "So the first game of the double header would be a varsity game [and] the second game would be the JV game. So the JV guys would just literally sit the entire week and then play one game on Saturday, and now they'll be able to play the entire week. They'll have their own schedule [and] own practice times."
The new coach of the JV team will be previous Sophomore Head Coach Matt Izenstark, according to Savino. Justin Weiner, former freshman head coach, will now be the sophomore coach, and Glenbrook South Alumnus Robby Binder ('09) will be the new freshman coach. During practice, the JV and varsity team will either be competing against each other or working together on the field. Both teams will also now be playing in opposite locations, so when the varsity team is at home, the JV team will be playing an away game. 
Savino said the coaching staff could not be more excited to coach a group of players that have been playing together for a long time and love the game.
"I'll tell you the two greatest qualities of this team is number one, they absolutely have a passion for baseball.
"And then number two, they are extremely selfless," said Savino. "Like, they truly care about the team. I think when you have a bunch of guys that are passionate about baseball and care about the team, you know that's a great foundation upon which to build."