Relay team, new coach headline track season
Robbie Fraser, Evan Goldberg, Executive Sports Editor, Sports Editor
March 2, 2018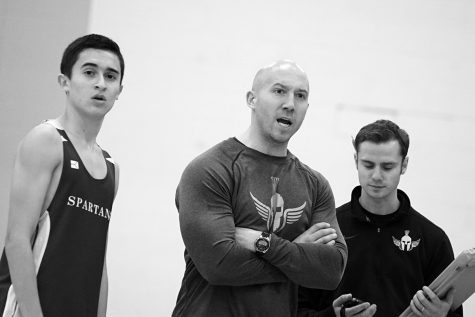 Apart from nervous jokes in attempt to lighten the mood, the bus ride to the stadium on the last day of the 2017 outdoor track season was silent. After being the last of 12 teams to qualify for the IHSA 3A Boys Championship finals by less than a second in the preliminaries the day before, the 4×800 relay team consisting of seniors Michael Ocasek and Kyle Foley, junior Dana Sullivan and Alumnus Luke Amen ('17) dropped 12 seconds in the finals to claim fourth place in state.
"Immediately [after Foley finished], I hugged Dana because he was the second runner, and I handed [the baton] off to him," said Ocasek. "I hugged him … probably for a good ten seconds. [He] and I were just in each other's arms, so happy and so excited that we exceeded our expectations going into the season. We saw Kyle Foley finish, and we were just jumping up and down. … I was just like, 'What just happened? We just got fourth!'"
The team finished with a time of 7:47.26, breaking the previous school record from 2016 of 7:53.70 for the 4×800 relay.
  Foley, the team's anchor, said the race was very nerve-racking. He was passed by four runners in the first 400 meters of his leg before re-passing all four and finishing just over a half second behind the third place team.
"Going from 12th [in preliminaries] to fourth isn't easy, … and coming back from such a terrible race the previous day, I think that was our biggest success," Foley said.
The 4×800 relay team features in a boys track team with many returning varsity members along with Sean Brandt, new boys track and field head coach, who has no prior experience coaching track but was a sprinter for Glenbrook North.
"When I started working here last year, I helped work a couple meets and saw the team atmosphere that this group has and dynamic that they brought to every meet, and it was contagious," said Brandt. "It left me kind of nostalgic [of my time at GBN]."
According to Ocasek, Scott Lasky, former boys track and field head coach, who stepped down after last season, fostered a smooth transition by inviting Brandt to practices and meets last year.
"Obviously, with a new coach, you have to build that relationship up again," said Ocasek. "It'll take some time, but coach Brandt is a great coach. He has a great philosophy, really connects with a lot of the runners and I think he likes to think of himself as hip. He always tries to fist bump everybody, but I like it."
Brandt said he does not feel the need for any major changes yet to such a well-established program. He also believes this year's group of athletes has what it takes to achieve the team's goal of winning conference.
Starting with the sprinters, Brandt said he has high expectations for seniors Chris Metellus and Michael Siboni. Metellus' sophomore 100-meter time of 11.58 seconds and Siboni's 11.95 second effort sophomore year would have been first and third respectively on the team last year, but both were sidelined with injuries during their junior seasons.
  Brandt said he expects senior Michael Lee, who was the MVP of boys cross country, to be a big performer in the 3200-meter. Lee had the team's top time last year with a 10:17.56. Brandt also anticipates senior Aaron Gros, junior Brandon Ng and sophomore Sebastian Capota to be key contributors in the pole vault.
The 4×800 relay team that qualified for the state finals is still completely intact. Foley had the team's top open 800-meter time last year of 1:57.08, followed by Ocasek with 2:00.60 and Sullivan with 2:01.01. Rounding out the team is senior Ari Bosse with a 2:04.79, who helped the team qualify for the last day of state before being swapped out with Amen for the final race.
Sullivan said the leadership from the senior captains helps motivate the entire program, not just the varsity runners, which is demonstrated by Bosse's post-meet speeches.
"Bosse always recognizes people [after meets]," said Sullivan. "It's not, like, because you're fast that he recognizes you. It's because you've improved. You've showed that you're a hard worker or you're determined. … Maybe this kid ran a [personal record]. Maybe he didn't win the race, but he ran an amazing PR."
Ocasek said the team's biggest goal for the upcoming season is to win conference for the second time in three years after having come in third last year, and he has high ambitions for the 4×800 relay team.
"We are hoping to win state in the [4×800 relay]," said Ocasek. "It's a very high expectation, but without high expectations, how do you expect to succeed? If you settle, then you're never going to reach your full potential. … Our motto this year is 'legacy,' and we want to leave a legacy."