Team strives for back-to-back conference titles
Micha Gachpar, Editor-at-large
March 2, 2018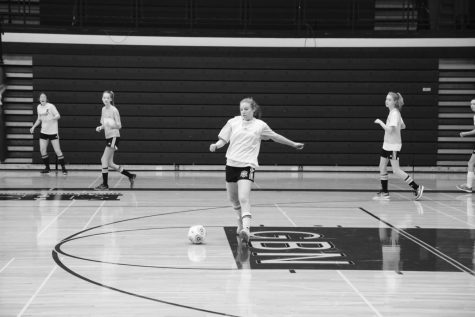 Last year, Craig Loch, girls soccer head coach, watched as junior Samantha Cramin raced down the right sideline before crossing the ball to sophomore Olivia Kosla. Kosla fired a one-touch shot into the upper right corner of the goal, increasing Glenbrook North's lead during its conference-clinching 4-0 victory over the team's biggest rival, Deerfield, on May 18.
The team finished 11-5-3, along with an undefeated conference record, helping to secure a CSL North championship.
According to Loch, expectations are high for this season because the team will be comprised of many key returning players, such as seniors Emily Charen and Maggie Oliphant.
"We won conference last year at all three levels," said Loch. "It's become a very competitive program with a lot of people pushing themselves to be better players. As a team, I'm hoping that we come out with energy and fight and get excited for the season."
Oliphant said she predicts this season will be the best since she started playing at GBN.
"Our forwards are really fast and they all work well together, so [that will] definitely be a strength for us," said Oliphant. "Our defense, so me, [senior] Emily Porta and [senior] Melissa Tucker have all been playing together for the past four years now, and I think we'll be a good defensive line."
Although only three seniors graduated from the program last year, junior Sammi Stoneburner said the team will need new players to take on stronger leadership roles.
"The [players who were] underclassmen last year … are going to have to step up more," said Stoneburner. "I think [sophomore] Victoria Caparos will really step up this year because last year as a freshman she did a great job, but now that she has experience on varsity, I think that she'll be more confident."
According to Stoneburner, Charen has also played an important leadership role as a four-year varsity forward and team captain. Before each game, Charen talks to the girls in a huddle and motivates them for the upcoming game.
Loch said Charen's talks before games help boost team morale.
"Anytime you can look your teammate in the eye [and she tells you], 'We're going to be fine, we're going to be great,' it spreads positivity, confidence and fire throughout the team," Loch said.
Charen has a signed commitment to play for Virginia Commonwealth University starting in the fall of 2018, while Cramin has verbally committed to play for the University of Iowa. Because Cramin and Charen will both be playing at Division I schools, Loch said he is hoping this will push other girls on the team.
"I'm hoping that having two players that are [Division I] recruits and are playing in college will motivate [the team]," said Loch. "I want [the players] to focus on the present and get the best out of them while they're at GBN."
Loch said his goals include winning conference again, beating Deerfield and Glenbrook South, and making it past the Regional Finals in the state playoffs, where GBN was eliminated last year by GBS.
"We're so excited to play those games," said Cramin. "We're going to come right at them really hard, and we're going to show them how [capable] we are."
According to Cramin, members of the program are currently involved in before-school workouts to prepare for the season and open gym sessions where anyone interested in the program can come to get touches on the ball before the season starts. Open gym sessions generally consist of a warm-up, a possession drill that focuses on dribbling and a series of scrimmages.
Oliphant said these sessions are also good opportunities for the team to bond.
"After the last one we brought a speaker into the locker room and were all dancing and singing while we were showering," said Oliphant. "Waking up early … sucks for everyone, but we support each other [at workouts] to make ourselves better."
Loch said the girls are starting to realize they are capable of competing with larger schools like New Trier, Evanston and GBS, and he is looking forward to seeing how this season pans out.
"This year our whole team will be able to compete for spots and playing time," said Loch. "It's going to be exciting watching these girls compete and seeing where it takes them."