IHSA adds lacrosse as official sport
Alex Youtsey, News Editor
April 20, 2018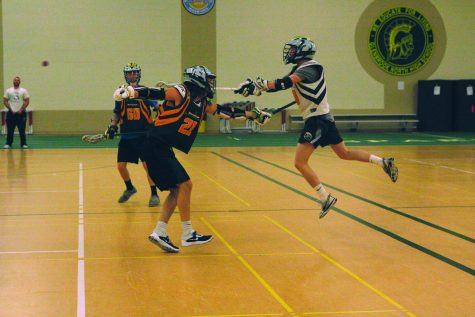 Senior Ayden Garwood clearly remembers the final moments of the lacrosse state playoffs last year. The boys lacrosse team lost 10-8 to Lake Forest, failing to keep up its playoff momentum after a 13-3 win over Evanston.
"It was a tough one," said Garwood. "[We were] stressed, but very excited. …  Our goalie saved one of the final shots before the last quarter, which made us keep our lead by one point. That was a pretty big play."
Lacrosse was added by the IHSA as both a boys and girls sport for the upcoming spring season, leaving the Illinois High School Lacrosse Association and the Illinois High School Women's Lacrosse Association, also known as the IHSLA and IHSWLA, respectively. This move brings along changes to the state tournament format from previous iterations.
Matt Troha, assistant executive director of the IHSA, said in an email that there will be 79 boys teams and 60 girls teams participating in the association, and the overall structure of the state playoffs and finals will be similar to other IHSA state tournaments. The tournament will be organized into sectional clusters based on school locations, and the playoffs will start May 18 and end with the state finals, which finish on June 2. Glenbrook North's sectional includes New Trier, the winners of 10 of the last 13 IHSLA state championships.
"The proponents who have been pushing for the IHSA to take on lacrosse believe that it adds a legitimacy that will increase the participating number of schools and student-athletes," said Troha. "Based on other sports [which] have gone this route, that tends to be true. Many IHSA schools have rules that say they won't add a sport until the IHSA offers a state series in it."
Justin Georgacakis, boys lacrosse head coach, said he knew some varsity players had complaints about changes to the playoff format resulting from the move to the IHSA.
"A lot of the good teams are from this area, and [we] might have to play them in the first or second round when maybe in the past we would have to play them in the third or fourth [round]," said Georgacakis. "To me, it really doesn't matter, you've got to get through them anyway. If you want to get to that level and make it to that final game, you have to beat good teams along the way."
Garwood said he hopes the transition to the IHSA will also allow GBN to face a variety of teams and bring in new students who are interested in lacrosse.
Senior Natalie Wolas, a girls lacrosse player, said she thinks the move to the IHSA will prove to be a positive change for the sport.
"I think it's great because [more] people will have the opportunity to play this sport [at other schools]," said Wolas. "[The change shows] it's becoming more popular."
Georgacakis said he does not think the move to the IHSA will benefit GBN as much as it will benefit schools who are less established in lacrosse.
"Hopefully, we can help the game grow out to areas like Rockford and Champaign, some of those big hubs where there are a lot of high schools," said Georgacakis. "As those high schools start to join in, you'll start to see our numbers really grow and [lacrosse] will become a complete, statewide sport."
According to Troha, IHSA officials in lacrosse will have to fulfill several requirements before they can officiate, like with other IHSA sports.
"IHSA officials in all sports, including lacrosse, must watch an annual rules update video, pass an annual rules exam and attend a hands-on clinic at least once every three years," said Troha. "We hope that these efforts all lead to more consistent and better overall officiating."
Georgacakis said he believes the IHSLA and the IHSWLA will become coaches associations that will train and mentor coaches. He supported lacrosse joining the IHSA and leaving those organizations before and is glad the switch has been made.
"It brings that stability to the game," said Georgacakis. "We used to have to worry about how many referees you would get, where [teams] would be able to play or who we could play. … This brings things [together] and centralizes them and makes things a lot better."