Upperclassmen guide young, revamped tennis team
Jonathon Lidskin, Staff Writer
April 20, 2018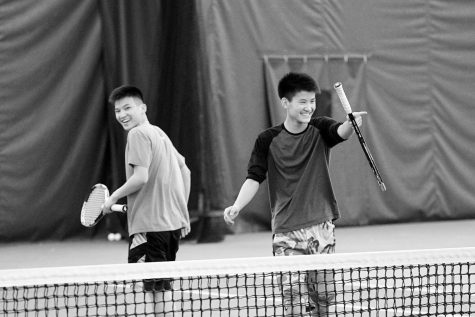 Lined up, separated by only a few yards, freshmen Nick Redstone and Matthew Park took their places to receive the serve from New Trier's top doubles team. The serve came hard at Matthew Park, forcing him to pop it up back to his opponent. New Trier hit a nearly unreturnable overhead which Redstone managed to volley back to win the point. The two freshmen lost the match but won four games in the first set. The two then proceeded to win their next two matches that night.
Redstone said he was impressed with his and Matthew Park's performance during the exhibition tournament.
"I was kind of surprised [that] we were off to such a good start," said Redstone. "The first set was very competitive and I was happy about that."
As of April 17, the team has only played one match due to cancellations but defeated Fremd High School 5-2.
Sophomore Ben Riad said he is impressed with how the freshmen handled their first varsity experiences.
"If our younger players can continue to perform the way they did, I think … we can have a good season," Riad said.
Underclassmen make up half of this year's team with two freshmen and five sophomores playing with four juniors and three seniors.
Jeff Jordan, head boys tennis coach, said the physical differences between his younger players and their competitors has forced the underclassmen to make adjustments to the way they play. However, it is necessary to have some step up due to losing 11 seniors from last year's team.
"We're building for a year or two down the line when we [have a majority of] seniors," Jordan said.
Riad is one of the underclassmen who has been asked to become a leader. He was voted a captain along with junior Ethan Park and senior Tripp Schulte.
Last season, both Ethan Park and Riad were members of the top doubles team for Glenbrook North. They made it to the state tournament and placed within the ninth to 12th place range.
Riad said he wants to return to state and place higher than he did last year.
Ethan Park said if he plays doubles with Riad again this season, they might be able to get closer to winning state this year.
Despite their expectations, Riad said he did not even know if he would be ready to play at the beginning of the season because of a broken ankle he suffered in the fall. His doctors gave him a six-to-twelve-month timeline for recovery.
"I was really scared and I didn't know what to expect," Riad said.
Riad was back on the court in time for the season despite the uncertainty of whether he could fully recover in time.
Jordan said he expected Riad to be able to rehabilitate his ankle in time for the season because of his dedication to the game.
"He plays through pain," said Jordan. "He had a torn abdominal last year and played through that, and he [has] a lot of heart when it comes to competition."
The captains have been adjusting to becoming leaders for the team this season.
Jordan said he has seen the older players help out the underclassmen by giving them rides to the Glenbrook Racquet Club in the beginning of the season when it was too cold to play outside.
"We [were] carpooling," said Jordan. "We [were] team building because we [had] to figure out how to get over to practice just because the weather [was] so bad."
Ethan Park said he hopes to guide the underclassmen this season.
"Last year I didn't really have a leadership position and this year I feel like I have to be more in charge," said Ethan Park. "I'm … setting the example for the younger players."