Cheers, jeers and tears
Sonia Zaacks, Executive Features Editor
November 2, 2018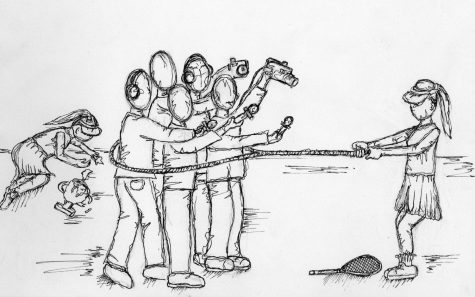 My jaw dropped in disbelief as Serena Williams, one of the greatest female athletes of all time, smashed her racquet on the ground during the finals of the U.S. Open. My eyes remained fixated on the screen as Williams received a point penalty and proceeded to call the umpire a "liar" and a "thief," after receiving a warning for violating the coaching rules during the match. 
Just when I thought the worst had passed, Williams was issued a game penalty for verbal abuse towards the umpire, claiming he was treating her more harshly than male tennis players who have committed similar actions on the court. All eyes were on Williams, her fingers pointed in a heated argument with the umpire. 
As someone who has grown up playing and watching tennis, I haven't witnessed anything within this realm of behavior. I watched as Williams' composure crumbled on the court.
Sadly, Williams was not the only person in tears. I watched in anger as Japan's Naomi Osaka burst into tears as she claimed her first Grand Slam title. Simply put, Williams undermined Osaka's success, making her feel as though she didn't win the match fairly. Following her victory, Osaka apologized to the crowd for the events that took place during the match and thanked everyone for watching.
If I have learned anything from being on a high school athletic team, it's that sportsmanship trumps the outcome of a competition. In the end, we all have some days that are better than others, and people shouldn't hide behind excuses when they don't perform at their best. 
Whether it be poor performance on the tennis court, an ill-prepared-for exam or a mistake made on the job, owning and claiming mistakes is what matters the most. As someone who is idolized for her accomplishments, Williams set a poor example for those who admire her by hiding behind a shortcoming.
As a result, others could view this type of behavior as an acceptable way of handling challenges.   
In the weeks following the match, arguments in favor of changing the rules for coaching during Grand Slam competitions were considered by the Women's Tennis Association. An inexcusable outburst from Williams transitioned into a debate of whether her poor behavior was justifiable. 
In the case of the U.S. Open Finals, there was only one thief on the court, and it wasn't the umpire. Williams stole the well-deserved spotlight from the true winner of the match. Williams left defeated, Osaka left in tears, and viewers left discussing only one thing: Williams' unsportsmanlike behavior.
As I conclude my last year in the Glenbrook North tennis program, I have enjoyed my wins, but have dealt with my losses in a dignified manner. At the end of a match, there is always a moment when you shake hands, congratulate your opponent and move on regardless of the outcome. 
After all, I doubt I'll remember how many times I've won or lost, but I will remember the feeling of shaking my opponents' hands with respect.