Siblings tackle Israeli self-defense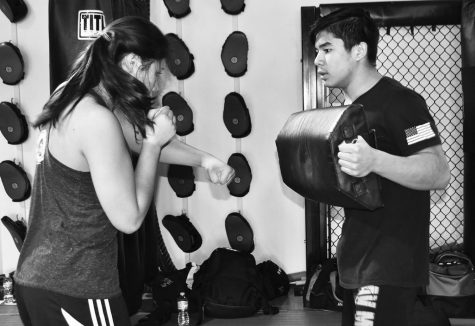 Walking into the five-day training to become a certified Krav Maga instructor, senior Katie Suarez felt confident in her technique. She had to train each day for about seven to 10 hours, perfecting skills in order to teach each movement correctly to students.
"It was a really hard week, but also really rewarding … to be certified," Katie said.
Originating in Israel, Krav Maga means "contact combat" in Hebrew. The martial art focuses on learning self-defense in real-world situations, deriving techniques from other types of fighting.
Krav Maga is divided into specific branches and six different levels. Katie and her brother, freshman Ryan Suarez, are both currently in level five and participate with the Alpha Krav Maga International organization, which has 27 locations.
Ryan said he and Katie became certified instructors this past summer for the first two levels of Krav Maga, which consist of basic self-defense techniques. Among Alpha Krav Maga International, Katie is the third youngest certified instructor at 17. Ryan turned 15 during the certification process, making him the youngest certified instructor, since 15 is the minimum age requirement.
"If you know how to do something, you don't know it truly until you can teach it," said Ryan. "If you can teach it to … little 5-year-old kids running around, then it means that you know the content, so [becoming certified] was almost trying to prove to myself that I know [Krav Maga] well."
According to Ryan, when the instructors finally announced the six people testing for certification had passed, no one had a reaction.
"We all felt accomplished, but we were so tired we didn't show it," Ryan said.
Cecilia Suarez, Katie and Ryan's mother, said before their Krav Maga career began, Ryan was upset one day in elementary school because he was hit by a classmate. After hearing about the incident, she decided Ryan and Katie should learn self-defense.
"I want him to know what to do if that ever happened again, for both of them," Cecilia said.
Krav Maga is based more on self-defense than other forms of martial arts, so Cecilia said she decided to place them in it. During the first class, Katie broke a nail and said she wanted to quit. Ryan was more interested in gymnastics, so he was not very enthusiastic about Krav Maga either. However, Cecilia made both of them stick with the activity.
According to Katie, she and Ryan began Krav Maga when they were 12 and 9 years old, respectively.
"[Our parents] forced us to join Krav, and we didn't like it at first, … but then [we] learned to appreciate it," Katie said.
Ryan said he had to take a break from gymnastics, his main hobby, after his back was injured in November 2017. He instead focused more on Krav Maga, greatly improving at it, causing him to want to practice even more. By learning more ways to defend himself, he gained a greater appreciation for Krav Maga.
"Krav is one of those things that you'll always carry with you," said Ryan. "There's no, … 'Oh, I did this at one point in time, now I can forget about it.' It's going to go with you for the rest of your life."