Guts and gutters, senior joins bowling team
Joey Harris, Executive Sports Editor
February 1, 2019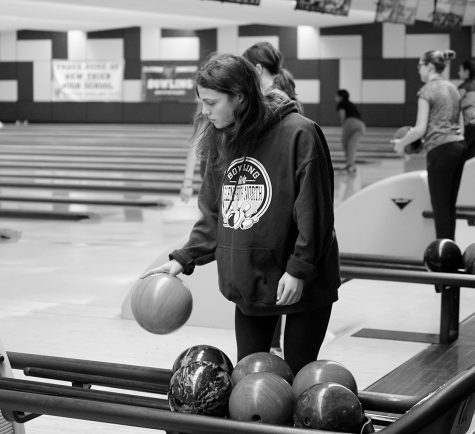 Girls bowling practice was coming to a close, but before it was over, the team decided to engage in an intrasquad competition. The girls would line up five alleys across and bowl. In order to advance to the next round, they had to knock down six pins, then seven and so on until a winner emerged. The winner was senior Carly Harris, a first year bowler with only weeks of experience at the time of this competition.
Although in the past Harris competed in indoor and outdoor track during the winter and spring seasons, when her mother announced her intention of running a marathon in this April, Harris changed her plans.
"My mom told me she was planning on running the marathon … and it's for her 50th birthday, and I was like, 'Oh my gosh, you have to let me run it with you,'" Harris said.
In order to train for the marathon, Harris said she knew she could not compete in a sport that involved a lot of running, but with a desire to maintain her eligibility for the 12-season athlete award, she decided to pick up bowling.
As of Jan. 23, Harris said she has not yet decided on a spring sport.
According to Harris, her first day of bowling was more challenging than she expected.
"I was watching the girls around me getting so many strikes in a row, and here I was getting every single ball a gutterball," she said.
Senior Julia Velasquez said Harris's inexperience was valuable for the younger members of the team.
"She was kind of like a freshman where she [did not] really know anything," said Velasquez. "So I think it was beneficial for our freshmen to see that there is a new senior in the same boat as them."
Since then, Velasquez said she has seen Harris become a more consistent bowler.
Harris said although she struggled during her first meet which was against New Trier, she was relieved after she received tips and encouragement from not only her teammates, but her opponents as well.
Matt Izenstark, varsity girls bowling coach, said bowling provides a uniquely supportive environment across schools that is not found in other sports.
"If a girl from Evanston or New Trier gets a strike, you can say good job to her, where you really wouldn't do that in [other sports].
"[In baseball], you get struck out, you don't say, 'Nice job' to the pitcher generally," said Izenstark. "After the game [you say], 'Good game, good game, good game,' but [for bowling], this is during competition. [If] anybody does something well, most teams are going to be supportive of the other team."
Harris said bowling has allowed her to participate in Spartan athletics without wearing herself out for her 5:30 a.m. runs and other marathon related workouts.
Velasquez said she is not surprised by Harris's ability to balance bowling, marathon training as well other activities and is glad Harris made the decision to bowl.
"The fact that she chose bowling to add to her 12 seasons, really, I'm honored that she did, it's very cool," Velasquez said.
Izenstark said he is impressed with Harris's decision to follow through on her plan to be a 12-season athlete.
"[To] be a quality participant across a variety of settings is a cool goal to have and that's something she's willing to sacrifice [time] to get," Izenstark said.
According to Harris, working towards being a 12-season athlete has given her the opportunity to make the most of her time at Glenbrook North.
"It was a goal that I had before coming into high school, … and it's also allowed me to be a part of so many communities, like bowling is one, and the running community and I was on basketball and soccer and tennis, and I just have tried so many sports and have loved being on so many different teams because it's a different experience [with every team], but it's such a great experience on each," Harris said.