Winter sports seasons in review
Sophie Sperber and Alexandra Chertok, Opinions Editor and Staff Writer
March 1, 2019
The 2018-2019 winter sports season has seen winning records, state qualifiers and conference champions. Below are a few moments and statistics from each of Glenbrook North's teams.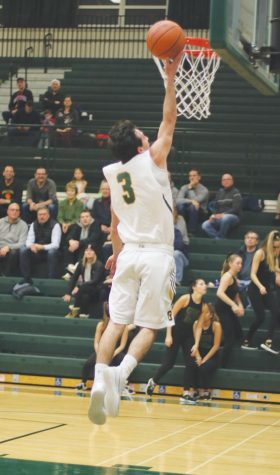 Boys Basketball: At a game against Vernon Hills on Jan. 25, senior David Mirochnick shoots a breakaway layup.
Mirochnick said the best moment of the season was when the team beat Deerfield. He remembers getting a steal and feeding the ball to senior Alex Press for a dunk. Through the first 26 games, Mirochnick had 84 assists, the most on the team.
"Alex's dunk was a big momentum change that just gave us a push," said Mirochnick. "Then we just played really good defense throughout the whole game that ultimately led to a win."
The top scorer on the team is senior Brian Johnson, averaging 14 points per game, followed by seniors Frankie Siegen and Press, averaging about 12 points per game.
As of Feb. 21, their record is 17-11 overall and 9-1 in conference.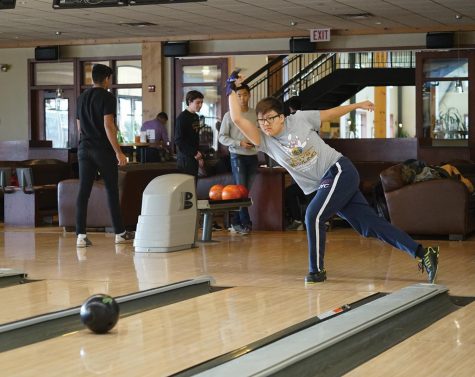 Boys Bowling: Junior Eliot Kang, a member of the varsity bowling team, bowls during his Lifetime Sports class. He said that although the team did not accomplish its goal of winning conference, their success in qualifying for the state tournament was a big deal. 
Head Coach Todd Rubin said the team accomplished this for the fifth time in the program's history. The team finished 20th at state, but Rubin said a goal for the future is to make the top 12 teams at state and qualify for the second day of the tournament. 
Rubin said another big moment during the season was when senior Jared Kuper bowled a perfect 300 game against Niles West.
Kang said, "Everyone went insane." 
Kuper also held the highest average score of the team with 206 points per game. The team held a record of 16-2 this season and is 128-10 in the last five years.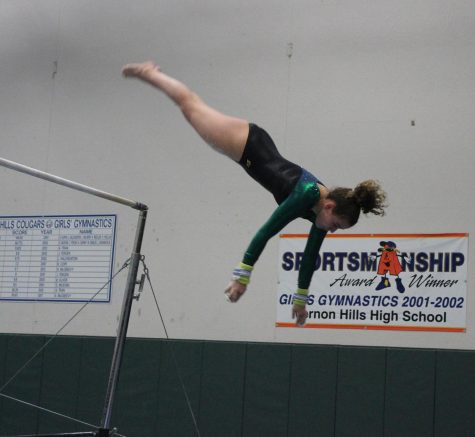 Girls Gymnastics: Junior Lucie Abbott performs on bars at the conference meet on Jan. 25. Abbott said bars is the most difficult event for her, and she was nervous, especially since the meet would determine whether the team won or tied conference.
Head Coach Julie Holmbeck said the team dealt with multiple injuries this season.
"[There are] only seven girls on varsity to begin with, so when people get injured, it's really hard to try to put people in positions when you have five girls that go up and four scores count," Holmbeck said. 
Abbott said the number of injuries the team had this year was more than past years, and this put more pressure on the other girls to learn events that they did not usually compete in. Despite this, the team accomplished its goal of winning the conference meet and ended with a conference record of 10-0.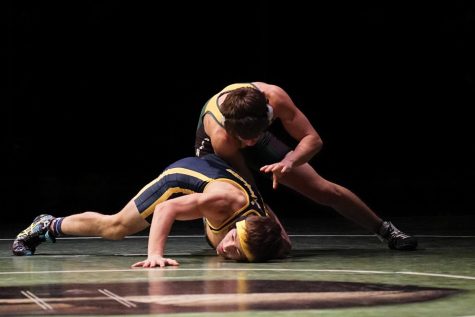 Wrestling: Junior Tim St. John wrestles against Glenbrook South on Dec. 20 in the CPA. The meet raised money for the American Heart Association in honor of former wrestling coach Mark Rebora, who died of a heart attack last March.
"The atmosphere in there was really surreal.
"Many of us had never wrestled on a stage, or that big of a stage, before, so we were all … amped up for the meet," St. John said. 
Head Coach Jason Erwinski said that many wrestlers have shown significant improvement this season.
"There's just story after story with this year's team of young men … showing tremendous character and heart and passion," Erwinski said.
The team's dual meet record was 14-11, and the team placed second in conference. At the sectional meet, seniors Nico Jung, Cam Casey and Trent Williams qualified for state. Williams placed sixth at state.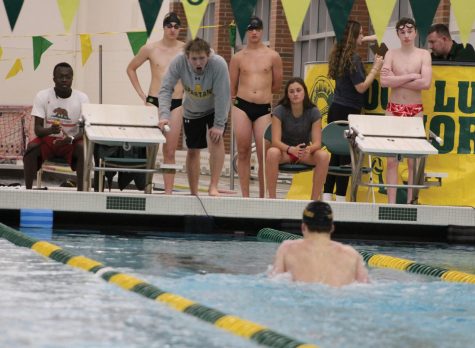 Boys Swimming & Diving: Junior Zander Johnson cheers on senior Ryan Purdy as he swims the 200 IM. Purdy is the state champion in the 200 IM and the 100 backstroke. 
During the sectional and state meets, the team broke a total of seven school records. The 200 medley relay record was broken by Purdy, Johnson and seniors Daniel Kaufman and Jake Shapiro with a time of 1:32.85. Purdy broke the 200 IM record with a time of 1:49.44, the 100 backstroke record with a time of 48.92 and the 100 freestyle record with a time of 45.70. Shapiro broke the 100 fly record with a time of 50.14. Kaufman broke the 100 breaststroke record with a time of 57.71. Senior Ryan Cohn set the highest record for 11 dives, with a score of 545.10.
"It's one of the best seasons GBN swimming has ever seen," Kaufman said.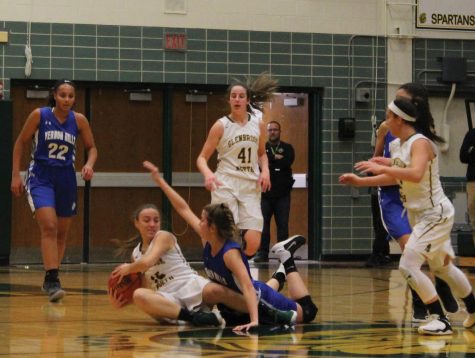 Girls Basketball: Senior Sammi Stoneburner dives for the ball during a game against Vernon Hills on Jan. 25. She said it was one of the best games the team had played despite losing 48-33.
The following week, the team beat Deerfield 43-39. Stoneburner said Deerfield is their biggest rival.
"Last time we played them, we lost to them," said Stoneburner. "This time it was their senior night, so that [was] another motivation, … beat them on their senior night."
Head Coach Danielle Fluegge said the team was missing a lot of players near the start of the season, but they improved as the playoffs approached.
Junior Christina Christos said she felt the team's regular season record of 9-18 did not accurately reflect how the season went, as many of their losses were in close games. The season ended with a 68-50 loss in the first playoff game to Maine South.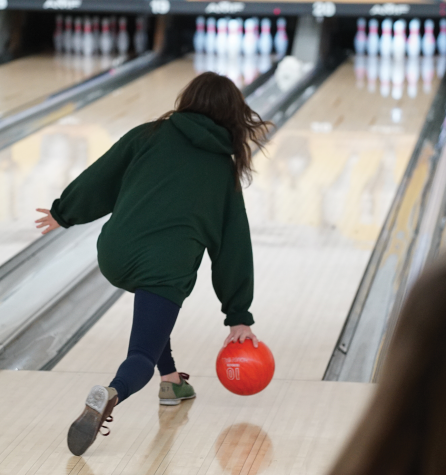 Girls Bowling: Senior Carly Harris bowls during a practice. The team did not win any meets, but senior Julia Velasquez said this season was the best she has had.
Her favorite moment was at the regional tournament on Feb. 2, where there was a lot of energy and cheering from her teammates. 
"A couple of us were in contention to make sectionals, so everyone was really excited about it," Velasquez said. 
Velasquez was the only girl who qualified for sectionals this year. Junior Emma Verne placed 12th at regionals, but only the top 10 bowlers advance. 
According to Head Coach Matt Izenstark, making sectionals at GBN does not happen often. 
"Last year was the first time ever," said Izenstark. "So this is the second year in a row we've had someone qualify, so [Velasquez is] only the second girl ever to qualify [from GBN]."