Girls lacrosse attacks competition with few varsity returners
Megan Fahrney, Sports Editor
April 18, 2019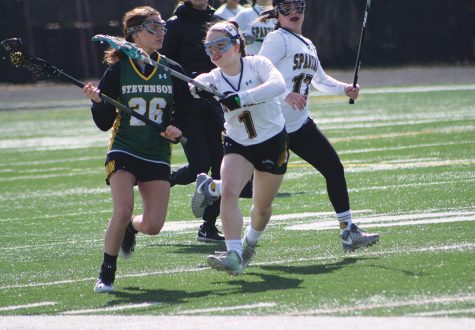 With just seconds left in the first half, trailing by five points, the Glenbrook North girls lacrosse team has possession of the ball in front of Stevenson's net. Sophomore Mia Fusco receives a pass at the Patriots' goal. Eyeing the net, Fusco cradles the ball for a few steps, jukes defenders and buries the ball in the back corner for a goal. The Spartans entered the second half of the game down 9-5 and ended up losing 13-8. 
Fusco is one of eight returning varsity players this year, three of whom are seniors. She said because there are so few seniors, she feels a responsibility to step up as well, though the seniors that are present have been doing a great job stepping up into leadership positions.
"At tryouts it was so different because people who were, like, in my shuttle line before weren't there," said Fusco. "It was surprising and … saddening." 
The team this year has two juniors and one senior as captains.
According to junior Anna Werman, having junior captains is different but will help to build the team for next year because those girls may potentially be two-time captains. 
Werman said tryouts were difficult with few varsity returners.
"When we would do drills [at tryouts], it was a little bit challenging to try to teach the new girls … what to do," Werman said.
Another area of change, according to Fusco, is the team's strengths and weaknesses. Last season there were a lot of skillful stick handlers, whereas this season, there is more speed. 
Senior Kayla Epstein said the team is dealing with the loss of a number of attack players, resulting in some girls having to switch positions. 
"I actually played attack freshman and sophomore year and then switched to defense last year," said Epstein. "When most people come onto the team they switch to defense because usually that's what we're low on, but since this year we were low on attack, I had to switch. 
"Last year, I learned everything defense, and … I didn't play any attack. I almost zoned out the parts when [the coaches] would talk about attack, and now this year it's like a complete 180." 
Some of Epstein's closest friends were the people who decided not to play this year, she said. 
"I used to go out to get smoothies with a girl on my team last year every time after practice, and I haven't been able to do that this year and it's kind of sad," Epstein said. 
Senior Sami Leibow said she decided not to play this year mainly due to her busy schedule.
"I knew I would be missing a lot of lacrosse, and I didn't really want to let down the team by not being present at certain times and being present other times," Leibow said.
Head Coach Tom Rosenbaum said he wants people who are 100 percent committed, so he respects that many of the girls decided not to play if they could not commit.
"'Next man up' philosophy is extremely important," said Rosenbaum. "We have a lot of freshmen that would not have had the opportunity to play at the varsity level if these people came out." 
Senior Phaelan Kennedy opted not to try out this year because of her job, though she said her decision was influenced by many other girls in her grade not returning.
Rosenbaum said he believes "you play for the person on the left, the person on the right, and you play for yourself." 
"Every year we have kids that come and kids that go, and we embrace the kids that are here, and we enjoy that, and we celebrate those kids," Rosenbaum said.