Freshman assists in varsity volleyball
Joey Harris, Executive Sports Editor
May 23, 2019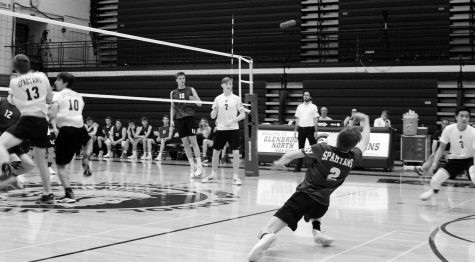 The stands were filled, sneakers were squeaking and Glenbrook North was leading 23-20 in the first set of a crosstown rivalry match against Glenbrook South. The ball was flying back and forth between the two teams when a GBS outside spiked the ball at freshman Paul Wyszynski, who got low to the ground for a dig, leading to cheers from the crowd. Soon after, the ball was spiked even harder at Wyszynski, knocking him back as he kept it in play a second time, bringing on an even louder cheer.
Despite the crowd's response, Wyszynski said he felt he could have made a higher quality play.
"It was good that I got [the crowd] up, … but I feel like I could have made … a better pass," he said.
Wyszynski finished with eight digs to help the Spartans win the match in two sets.
Wyszynski is the newest addition to the boys varsity volleyball team and has helped the team achieve a record of 16-9 as of May 14. He leads the team with 187 digs and has 208 serves received.
Chris Cooper, head boys volleyball coach, said Wyszynski provides a calming factor on the court.
"When the opponent's best hitter goes up and hits a ball as hard as he can and he doesn't get a kill because [Wyszynski] makes a big play on it, that's really deflating for the other team," Cooper said.
According to junior Ethan Brodell, there was a lot of buzz about Wyszynski before the season began. Wyszynski has competed with Team USA High Performance and is a member of the club team which took third place at the American Athletic Union Junior Nationals. During tryouts, Brodell found the hype justified.
"He jumps higher than me," said Brodell. "He touches higher than me, which was insane. This 5-foot-8 kid [was] jumping higher than me [at] 6-foot-4."
Wyszynski was initially placed on the JV team, but after the JV and varsity teams scrimmaged a few times, Cooper said he saw Wyszynski had the skill and maturity to compete with varsity.
After he got moved up, Wyszynski said he was not nervous to play at a higher level, he just wanted to prove himself.
"I was pretty excited, but I just went out there and did my thing," he said.
Senior Jack Joselit said the confidence Wyszynski brings to the court has been a factor in the team's success.
"He's not afraid to tell me to move over if I'm in the wrong spot or call me out for something," said Joselit. "And his confidence for such a young kid, it really gives us the confidence to play with him and trust him."
Wyszynski said from pasta parties, to attending other teams' sporting events, to playing basketball with the team after practices, he has felt included in the team.
Cooper said the team has gone out of their way to involve the underclassmen.
"Brodell was talking to [Wyszynski] and saying, 'Hey, we're going to go watch the girls lacrosse game,' and [Wyszynski] was like, 'I don't know, I don't know,' and [Brodell] wouldn't take no for an answer," said Cooper. "He basically was like, 'So what time am I picking you up?'''
According to Cooper, due to injuries, almost everyone on the team has seen significant playing time, but playing backups has not hindered the team's performance. He attributes some of the team's closeness to the fact that so many athletes feel involved in the game.
Brodell said, "It seems like every other night someone different is stepping up."
According to Joselit, the team is incredibly resilient. Against Lake Zurich High School, the team lost its first set by 13 points before two close wins in its next sets, winning the match 2-1. The next night, after going 1-1 in their first two sets with Deerfield, the team had a lead of 21-19 in the third set when the Warriors tied it. From there, the Spartans pulled away for a conference win.
Wyszynski said the efforts of his teammates to integrate him into the team dynamic have been a part of its achievements.
"If they didn't accept me … I wouldn't talk as much to them and [be] helping them out, they wouldn't be helping me as much," said Wyszynski. "So having them accept me [has helped] because now we're all just like a big family."