Boys golf drives toward state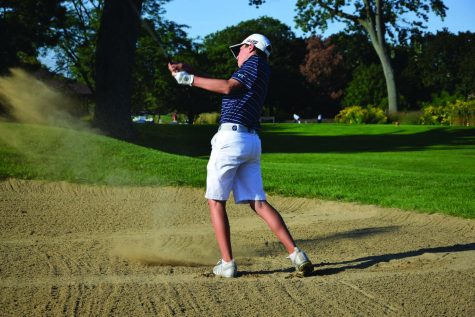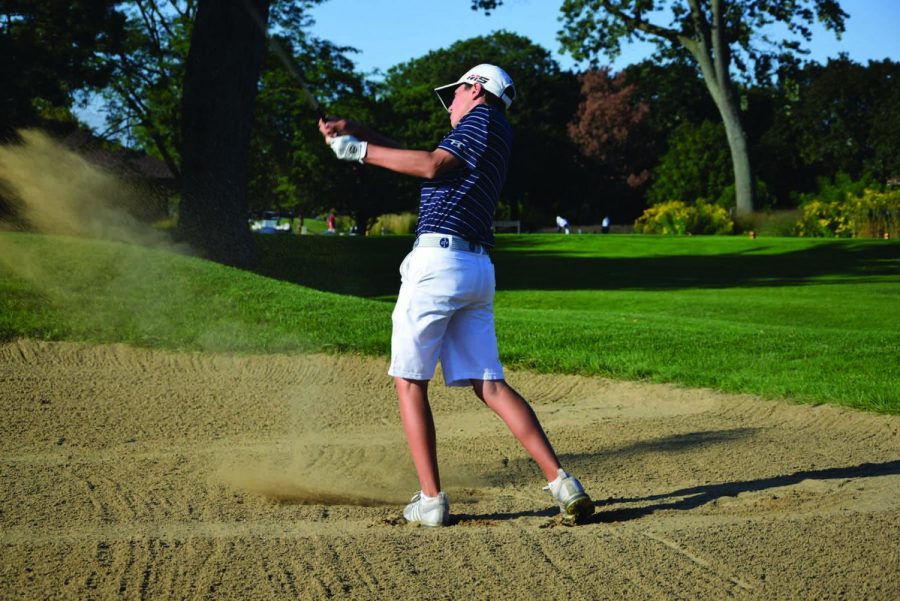 As the golfers tried out at the Sportsman's Country Club golf course, senior Matthew Lee marveled at what he saw. Lee, who has been golfing since fourth grade, was surprised when his score didn't crack the top half.
"The other guys I knew were good, but I didn't know how good they were gonna be," said Lee. "And when everyone shot … [near] par, I knew it was special this year."
Lee is one of five returning seniors on the boys varsity golf team, and he was not the only one surprised by the talent the younger players possessed. Senior Charlie McMahon expressed a similar reaction to this year's tryouts.
"This is definitely the best team I've ever been a part of," said McMahon. "[There are] some studs on this team."
Over the summer, the team secured its first tournament win with a score of 300 at Rolling Green Country Club, beating out Loyola (302), Glenbrook South (303) and 10 other varsity teams. As of Sept. 24, the team is 6-0 in head-to-head competition.
Head Coach Justin Gerbich said he has high expectations for the team as a result of the early success.
"We have the players, we have the talent, and … our goal is to make it to state," said Gerbich. "We have a good regional and have a tough sectional, but our expectation is to make it to the state tournament and hopefully finish top three. … If we play like we're capable of, I think we can do it."
Despite tough local competition, Lee feels confident that the team will play well when the stakes are high.
"We have a couple guys that can shoot under par at any course, so I think we can match up with any team out there," said Lee. "[My teammates] thrive under pressure, and they always make those big shots … towards the end when they count the most."
According to sophomore Carl Gustin, the talent level is not the only thing that makes this team special. Gustin said that the chemistry between players is a special facet of the team and unique to this group.
"Before the golf season, we all knew each other and we all kind of played together before," said Gustin. "So the team chemistry was already there come the first practice, first match. So everyone picks each other up, everyone encourages everyone."
Another new aspect of this year's team is that there are no team captains, despite the presence of freshmen, sophomores, juniors and seniors on the roster. According to Gerbich, the goal of this rule was to improve team unity and not be cliquish.
"We have a lot of younger players and a lot of good players and we're trying to kind of set the tone for just overall team chemistry," Gerbich said. 
Although the team connects well, McMahon said the practice atmosphere is very competitive. 
"Everyone's, like, supporting each other, but I think it's more of a competitive feel," said McMahon. "But that's what makes us so good. Everyone's trying to beat each other every time we're out there in practice and it's competitive every time. And that's what pushes us. That makes everyone better."
For McMahon, there is only one goal in mind: going to the state playoffs.
"We've got the talent to do it, we just [have] to play to our potential."