Female athlete aims to tackle football
Jonathan Lidskin, Sports Editor
September 27, 2019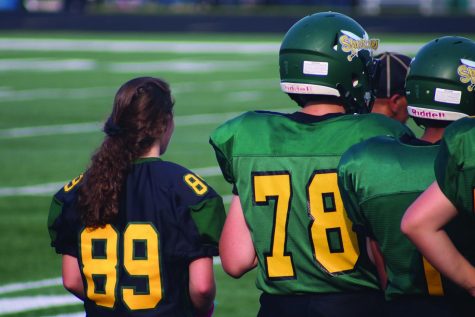 During a preseason game, frosh/soph kicker Rebecca Paterkiewicz found herself standing on the sideline because kickers were not being used in the game. While watching the game, Paterkiewicz was told by a coach that she was going to be part of the "chain gang" during the game. With this being one of her first football game experiences, Paterkiewicz did not know what the "chain gang" was or what it did. The coach explained that the chain gang marked where the line of scrimmage was and how far the offense had to go to get the first down.
"I thought they were actual chains like 'What was I doing with chains?'" Paterkiewicz said.
According to Frosh/Soph Assistant Coach Sean Brandt, Paterkiewicz seemed to have a good grasp on the game despite asking many questions.
During her freshman year, Paterkiewicz played volleyball. This past summer, she was cut at tryouts and immediately decided to join football.
According to Paterkiewicz, she wanted to try something new and different.
"I already knew the coaches from [P.E.]," said Paterkiewicz. "I asked them and they were really happy that I could do it."
Brandt said it was inspiring that Paterkiewicz wanted to join football after not making the volleyball team.
Frosh/Soph Head Coach John Gilchrist said when Paterkiewicz asked him to play, their first conversation was about what position she wanted to play. He said Paterkiewicz immediately wanted to try out kicking.
Paterkiewicz said when she first joined the team, she was a little nervous because the boys did not know that a girl had joined.
"The coaches introduced me and a lot of [the players] were like 'What?' but then they all warmed up to me really well and a lot of them introduced [themselves] personally to me," said Paterkiewicz.
According to Brandt, he could tell that Paterkiewicz would be well-liked by her teammates as early as her first practice with the team.
"She's walking up and right away Simon Klein said, 'Way to go Rebecca,'" said Brandt. "We introduced her as one of our new players and … it was an exciting and very easy transition."
Sophomore Simon Klein said that he was a bit surprised to see Paterkiewicz the first day she came out for practice, but he knew her from school so it was cool to see a friendly face join the team.
"It was different for everybody to see [her]," said Klein. "People were a bit hesitant at first, but now that the season has progressed we've been a lot more welcoming."
Brandt said that Paterkiewicz is one of the friendlier teammates and that she even offered to make cookies for the team.
Paterkiewicz said that she gets a different vibe from football because she was used to playing volleyball on a team with all girls, but she really feels like she is a part of the football team.
As of Sept. 24, the team's record is 0-4. The team will face many conference opponents as they enter the back half of their season.
According to Brandt, he was impressed when he saw Paterkiewicz kick her first extra point during a practice.
"I'd never seen her hit an extra point yet, but day by day I saw her kicks gain in height and distance," said Brandt. "I knew she had worked at [extra points] and figured it out fairly quickly for a new kicker."