Boys basketball coach to retire after Hall of Fame career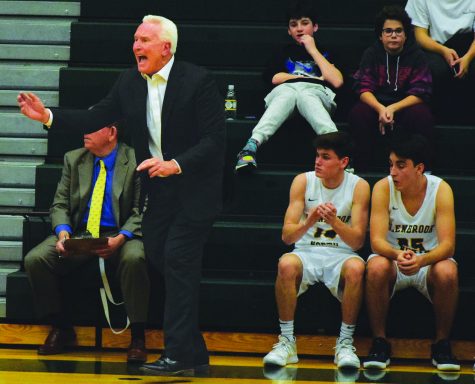 Down 10 points to Waukegan High School in the second quarter of the super-sectional game, the Glenbrook North boys basketball team was looking to advance to the Elite Eight. With momentum on Waukegan's side, boys basketball coach David Weber called three plays which set up easy layups for Jon Scheyer, now associate men's head basketball coach at Duke University. The Spartans took momentum from Waukegan for the rest of the game and won 70-58. The Spartans would go on to win the 2005 State Championship, the first state title in GBN boys basketball history.
"To this day, [my friends and I] still remember the names of those plays and those calls," said Scheyer in a phone interview. "We remember practicing them all the time for four years."
After 37 years of coaching, 26 of which were at GBN, Weber plans to retire as a GBN coach after this season. In his career, Weber has led four teams to the Elite Eight or further in the state playoffs. He has coached 14 teams that were conference champions, 11 of which were consecutive over the years 2002 to 2012. Weber was inducted into the Illinois Basketball Coaches Association Hall of Fame in 2018.
Weber said beginning his last season has caused him to reflect on all the years he has been at GBN. He feels excited and emotional to be coaching at GBN for his final year.
"[The players are] a good group of kids," said Weber. "They listen, they play hard and hopefully that will allow them to get some wins this year."
Junior Jeremy Gertz said he wants to make sure Weber ends his coaching career on a good note.
"I just want to give him his best last season that we can give him and just go try to win every game," Gertz said.
Senior Ben Foster said his favorite memory of Weber was celebrating with him last year after beating Deerfield.
"We just all … danced and celebrated and were throwing water all over the place and [jumping] around with Weber," Foster said.
As of Dec. 10, 2019, the team is 3-4. The team placed fourth out of eight teams in the GBN/St. Pat's Thanksgiving Tournament.
According to Brian McDonaugh, assistant boys basketball coach, Weber is not a micromanager.
"He is someone that gives you a responsibility and trusts that you're going to do [that] responsibility," McDonaugh said.
Weber said one of the most memorable parts of his career was coaching his son, Austin Weber, during the 2008-2009 and 2009-2010 seasons. During Austin Weber's junior year, the team won the Sectional Championship, making it to the Elite Eight.
"To be able to coach your son, and to have the success that we had as a team [at the Sectional Championship,] that was something I'll always remember," David Weber said.
Austin Weber said in a phone interview that making it to the Elite Eight was a crazy experience to have with his father and a very impactful moment in both of their lives.
Scheyer said he sees a lot of players coming in to play for Duke, and not many are coached as well as he was by David Weber.
"I remember days shooting with him after practice, and he hit me really creatively with ways to engage and challenge me and I'm thankful for that," Scheyer said.
David Weber said he is considering coaching basketball next year at a local Division III college.
David Weber said he hopes he has positively influenced his students and players at GBN.
"I hope that I was able to touch some lives throughout my career here, and that some of these young men and the girls that I've had in my classes can look back and … have a good memory of me," David Weber said.