Athletes boost performance in the off-season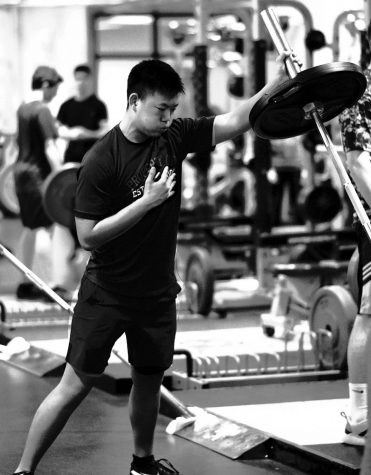 Filled with the sound of metal bars clanging against weight racks, the Spartan Fitness Center is pulsing with activity at 3:45 p.m. on Wednesday, Jan. 8. Junior Drake Marquez, one of the many football players working out, is bench pressing, taking turns with his teammates. For Marquez, the off-season is about more than just staying in shape.
"I want to be someone who's great, so I'm going to put in as much work and effort as I can to be that great person so that future generations of GBN [students] will be like: 'That's Drake Marquez,'" Marquez said.
Throughout the off-season, the football team completes weight training and mobility workouts designed by coaches from TCBOOST Sports Performance. The football lifts are organized into four-week segments of detailed workout plans, said Steve Breitenstein, director of coaching at TCBOOST.Breitenstein directs the TCBOOST strength and conditioning programs for Glenbrook North athletes after school.
According to Breitenstein, the TCBOOST coaches work with several GBN teams under a district contract that is determined by an open-bid negotiation every two to three years, Breitenstein said in an email exchange. 
The TCBOOST coaches create specific off-season training programs for each sport they work with, and in some cases, design different workouts for different positions. The off-season training programs consist of strength training, mobility training and injury prevention exercises tailored to each sport's requirements.
The TCBOOST workouts are engineered to develop students as athletes starting from their freshman year and continuing through their senior year. The goal of each program is to get athletes to master foundational movements at first and then move into more advanced movements later in high school, Breitenstein said.
The baseball team has structured off-season lifts three times per week, two after-school workouts and one morning workout every Monday starting at 6:15 a.m. 
Despite the early start time, junior Eric Orloff said the Monday morning lift is a great way to start off the week. Orloff is looking to play baseball at the college level, and said the off-season is an invaluable time to gain strength and improve as an athlete.
"The work that you put in now pays off [in] the season, so if you're not putting in hard work now and getting stronger now, you're not going to see improvement from last year in this season," Orloff said.
Multiple GBN teams also use the off-season to improve athletes' skills for their specific sport as well. The softball team, for example, emphasizes skill work as the start of the season draws near, said Softball Head Coach Bridget Matsunaga. 
The softball players practice throwing, fielding and hitting indoors before the season starts.Pitchers and catchers complete workouts on Fridays during the weeks leading up to the start of the season. Even as the skill work training intensifies, the team continues to lift three days per week until the season starts.
Freshman Lilly Peacock, who is training for lacrosse in the spring, said she feels more confident in her athletic ability going into the season as a result of off-season workouts twice per week for the past few months.
To Marquez, the off-season is just as important as the season itself, and for that reason he brings intensity into all the training he does.
"It really pushes you … mentally, physically and it helps you better yourself," Marquez said.