Captain recovers from devastating injury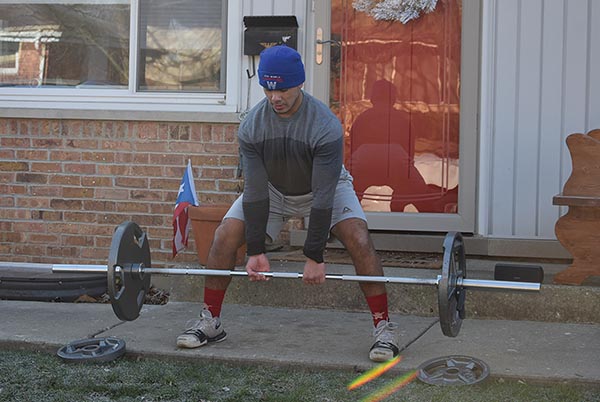 During a typical drill at Brigham Young University's High School Football Camp the summer of 2019, senior Drake Marquez collided with another player.
"I heard a snap … then I heard a pop," said Marquez in a video conference. "I looked down and my ankle was pointed in the wrong direction, and my leg was starting to swell up."
Marquez's mother Debbie Ruiz said in a video conference that she was notified of the injury while Marquez was being transported to the hospital. At first, she did not believe the news.
"Drake is naturally a prankster so when the trainer called, I thought he was joking," said Ruiz. "I was in shock, … it was a surreal moment."
According to Marquez, the doctors told him he suffered a compound fracture injury that required immediate surgery. Doctors placed three plates and seven screws into his injured right leg.
"I remember my family seeing me [after the surgery], … which was really tough, seeing all the people around you scared," Marquez said.
The first few months after the surgery were the most difficult, said Marquez. He found himself reliant on prescribed post-surgery painkillers to sleep. Fearing a potential addiction, Marquez decided to stop taking the painkillers despite his doctor's recommended timeline.
"So I stopped taking them. And the first night I stopped taking them was the worst, I … was up 24 hours that day.
"And then the pain started to go away a little bit, … [and] it was a lot better this way," Marquez said.
Marquez's lifelong dream has been to become a Marine, he said. He began participating in a youth Marines program in 2018.
But in these first few months of recovery, his Marines recruiter notified him of his disqualification from the program as a result of the surgical placement of plates and screws in his leg.
"That shattered my dreams [for] after high school and I was like, 'Now what am I gonna do?'" said Marquez. "I started getting into … a more depressed state."
According to Ruiz, she and the rest of the family did their best to cheer up Marquez during this difficult period.
"We rented a wheelchair from the Northbrook Park District … and went downtown," said Ruiz. "Drake loves pizza, so we went to Gino's East [and] we wheeled him around town."
According to Marquez, being able to exercise again post-surgery also helped lift his spirits. Even though Marquez could not work out his lower body and needed help from other athletes with setting up weights, he was still eager to continue exercising.
Assistant Football Coach Justin Weiner said in a video conference that he would find Marquez in the fitness center all the time.
"He is such a hard-working individual that sometimes he doesn't listen to his body," said Weiner. "There were definitely times when I probably thought, 'Oh my gosh, he's in here again.'"
According to Marquez, the quarantine in March was when he really intensified his workout and diet regimen, as he was fully cleared to exercise. While he worked out three times a week when he was still injured, he increased his workouts to six 60- to 90-minute sessions, increased his diet to 5,000 calories a day, all while working a full-time job at Chipotle.
"Whenever it's cold out, I [can] feel the plates on my leg and it hurts when I walk," said Marquez. "And I just gotta keep going because … next thing you know, football [season] is gonna be here."
At his first practice back after his injury, Marquez said he felt right at home and eager to play.
"I remember … stepping on the field with my cleats on," said Marquez. "I was surrounded by guys who are my brothers, who are my teammates, just amazing people."
Although Marquez said he is still unsure of his post-high school career, he knows he wants to be in a position to help others.
"I don't think that I'll be able to join any [military] branch, but that does not mean that I can't serve this country," Marquez said.