Dear people at the top,
You have been graced with power. Crowned with the authority of decision-making. Placed at center stage with the spotlight only on you. Starter of every game. Smartest in the class.
Congratulations. You've succeeded. But what about the rest of us?
The ones who practice so hard and so much they puke in the bathroom and still don't make the lineup. The ones who study for hours, skip meals and lose sleep, only to barely achieve the grade they want. The ones who rehearse their audition songs endlessly only to find out the role had been predetermined.
What about us?
Sometimes you laugh, smugly approaching us with the A+ on the top of your paper showing, smirking while you ask, "How'd you do?" even though you've already seen the grade written on our papers. People stare as you do this, some copying your actions, murmuring and stealing glances at us.
Sometimes you pat us on the back and feign a pout, telling us how we'll get it next time before turning around and whispering to the people around you, "As if! How'd they even make this team?" Meanwhile, everyone else nods around you, shooting glares at us, still on the bench. Your attitude is infectious.
Sometimes you look at us right in the eyes and shoot us down. When we finally muster up some courage, finally speak up and give our ideas, you rip us apart. You look us directly in the eyes and say, "No. We aren't going to do it that way. I know better," and everyone else in the group will agree. They will start tearing us down too. Just to be like you.
The gift of leadership, the gift of talent, the gift of reigning at the top of the hierarchy is that people follow what you do. Leadership's gift is also its demise — people follow you. Leaders don't get time off. Sure, maybe class is over or you're not in season, but whether you like it or not, you are still setting an example.
Oh, people at the top, we at the bottom are watching your actions. If you spread negativity, everyone down here will spread negativity too. We see your successes and mimic you, even if your actions are negative. We watch because we hope to be able to gain even a fraction of your success.
You have an audience, leaders. Use it. Get the ball rolling. Start the chain reaction. Turn things around for everyone.
You have been given a gift. Not everyone gets the power to change the atmosphere or the norm. Spread positively. The kid struggling with studying can be helped instead of put down. The benchwarmer could be embraced by the team instead of ridiculed. The people at the bottom can be helped instead of hurt.
It starts with you.
Sincerely, 
Everyone at the bottom
[caption id="attachment_6950" align="aligncenter" width="1"]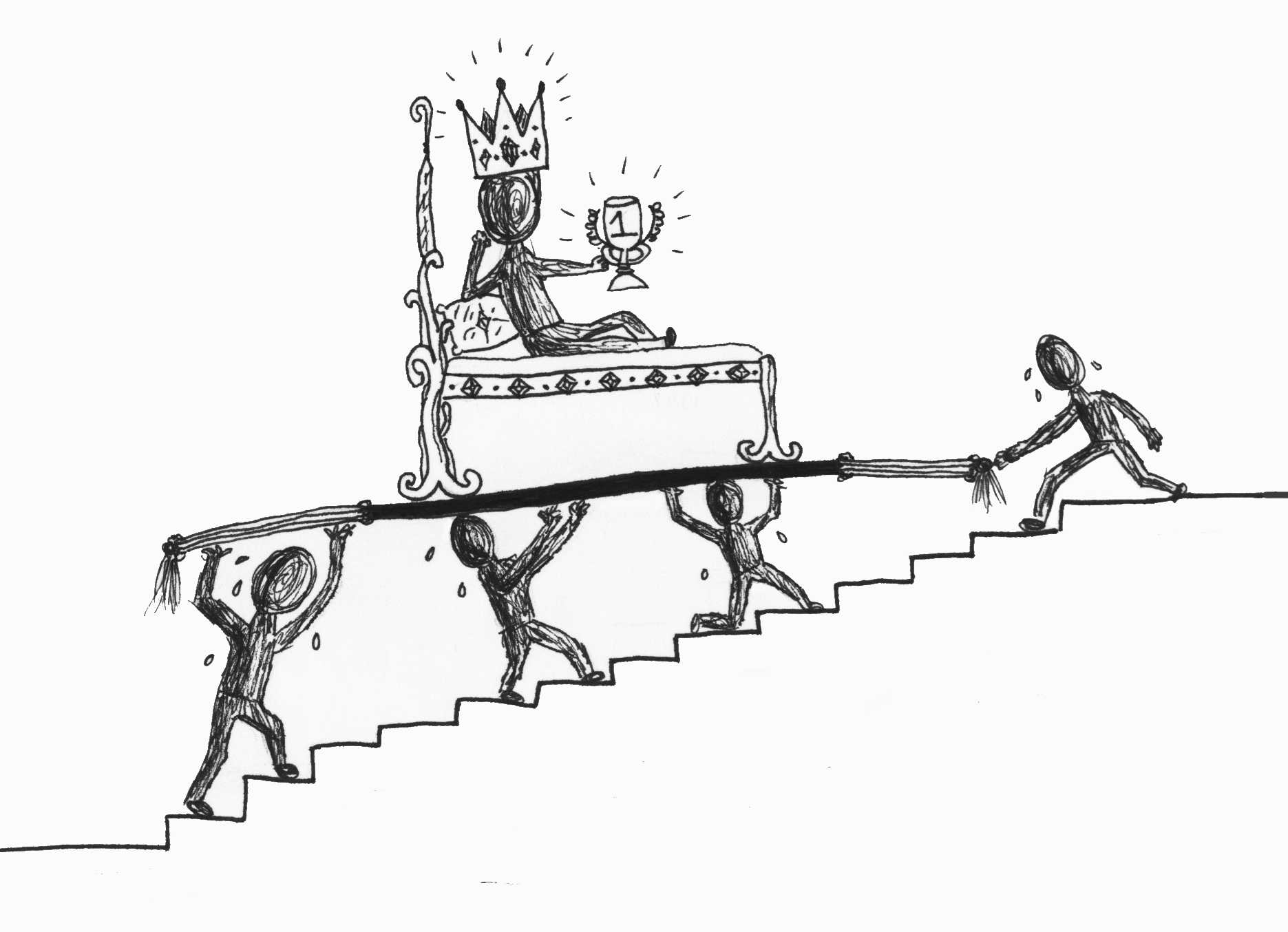 Graphic by Sam Morgan[/caption]
Sophie Sperber, Opinions Editor
Jun 01, 2020

Why I killed my babies

(Story)

Apr 30, 2020

To the Senior Class of 2020:

(Story)

Feb 14, 2020

Writing your wrongs

(Story)

May 23, 2019

2018-2019 year by the numbers

(Story)

Jan 17, 2019

A letter from everyone at the bottom

(Story)

Feb 02, 2018

A message from my closet

(Story)