Freshman figure skater jumps onto Team USA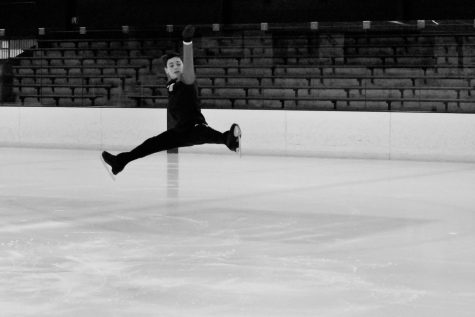 At age six, freshman Joe Klein landed an axel on his first try, a jump that typically requires at least six months to learn. Nine years later, Klein became a member of Team USA at the junior level, something only 11 male single skaters across the country have accomplished this year.
Based off his first place finish at the Dupage Open on Aug. 5, 2018, Klein received an invitation in early February to an International Selection Pool camp, a summer camp where candidates are selected to compete in international competitions at various levels representing Team USA. 
In preparation for the International Selection Pool camp, Joe Klein decided to alter his training regimen from three hours a week to six days a week.
"I upped my training and then I think that US figure skating saw that, and then they sent me out [to an international competition] and it was worth their while," Klein said.
Joe Klein's sister, senior Chloe Klein, said Joe Klein is a hardworking and determined skater who does not mess around on the ice. She also said his training intensified after receiving his first Team USA assignment in summer 2019, meaning Team USA selected him to compete in an international competition.
"Summers are supposed to be carefree and fun, and for him it's all training, training, training," Chloe Klein said.
Joe Klein's first international competition representing Team USA was the 2019 Junior Grand Prix in August 2019, where he finished seventh out of a pool of 20 junior level male skaters from 15 different countries.
"I was super nervous, but I think that's part of the fun of it," said Joe Klein. "It was crazy to be competing with guys that I've always thought to be on a way higher level than I was."
According to Agata Czyzewski, Joe Klein's figure skating coach, one aspect that sets Joe Klein apart is his ability to bounce back after a missed jump and respond to adversity.
"The moment he gets off the ice, he knows what he did wrong and he uses it as a learning experience for the next time," said Czyzewski. "That's what makes him a great skater."
Sophomore Abby Slovin said that although Joe Klein wears his Team USA jacket with pride, he does not let the success get to his head. Slovin and Joe Klein train together at Northbrook Sports Center, and she thinks he serves as a role model for the younger male skaters at the rink.
Currently, Joe Klein's training consists of one hour before school and three hours after school. He also participates in off-ice activities, such as functional strength training, hip-hop classes and pilates.
Slovin said what separates Joe Klein from everyone else is his balance of technical skill and ability to perform. Even if he doesn't land all his jumps, the mood of the skate stays the same, and she believes that viewers still enjoy watching the emotion and the portrayal of the music.
Joe Klein recently finished first at the 2020 Midwestern Sectional Singles Final on Nov. 16, 2019, with a world record score for the novice level of 180.06. This placement qualifies him for the 2020 U.S. Figure Skating Championships at the junior level in January 2020. To meet Czyzewski's goal of Joe Klein going to the Olympics, she said he would have to qualify for the senior level U.S. Figure Skating Championships, medal there, then move to the Olympic level.
"I want him to be happy, so whatever his dream is, it's my dream," Czyzewski said.
According to Joe Klein, he's happy where he's at after 11 years of skating.
"It's a lot of training and perseverance and dedication, and I'm glad to be where I'm at," Joe Klein said.