Last one standing: Brenda Fuentes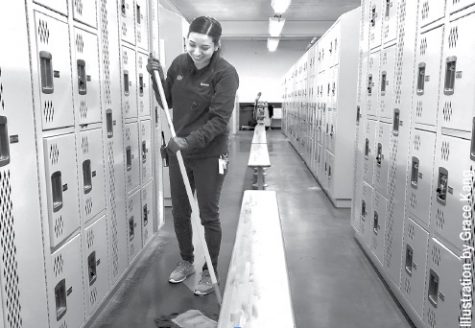 It is 9 p.m., and the dimly-lit halls of Glenbrook North echo with soft footsteps. Six hours and five minutes have passed since the stampede of students rushed through the halls and out the heavy doors to school buses and cars.
11:30 p.m. The paraprofessionals have turned off the hallway lights. The mop washing the floor and the cleaning cloth wiping the tables make a concoction of sounds along with the whirring of heaters and the droning of ceiling vents, forming arrhythmic, eerie background music. In the midst of these noises, evening custodian Brenda Fuentes listens to Mexican band Aventuras from her phone, while cleaning up the mess left by students.
In the evening, Fuentes breaks out into laughter in the girls' bathroom near Gym D201, observing the spectacle before her.
Early when GBN started to install pad dispensers, Fuentes said students stuck pads on bathroom stalls and tied tampons on the door.
After a while, Fuentes said she untied the unused tampons and ripped the Naturelle Maxi pads off the walls, tossing them into the trash can.
Though she has an evening job, Fuentes has other duties, including taking care of her 14-year-old sister. Every morning, Fuentes wakes up at 6:30 a.m. to style her sister's hair into a French braid. They often like to spend their weekends by having spa days, making do-it-yourself coconut and oatmeal face masks and painting their nails.
Fuentes enjoys other beauty care-related activities, such as watching makeup and hair tutorials on Youtube. Fuentes also likes to watch "Working Moms" on Netflix with her boyfriend.
Before working at GBN, Fuentes graduated from Wheeling High School in 2009 and enrolled in Harper College. A year and a half later, she received her certified nursing assistant degree but withdrew from a four-year undergraduate nursing program. For eight years, she worked at Riverside Foundation in Lincolnshire, a disability service and support organization. Then, her uncle, a day custodian, informed her of an open GBN custodial job.
With all her past experiences, Fuentes said she has some advice for GBN students.
"Never stop school [because] once you stop, it's hard going back," Fuentes said.
"I like what I'm doing," said Fuentes. "I have a great family that supports me."