Engineering club crafts prosthetic hand
Lucy Cho, Features Editor
September 27, 2019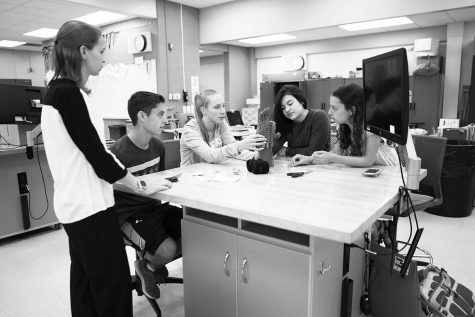 Through a program called e-NABLE, SWEN was matched with 59-year-old Ric McKenzie, who lost all his fingers to frostbite 20 years ago. e-NABLE is a global program in which people volunteer to make 3D-printed hands and arms for people in need.
The club members used blueprints and formulas from e-NABLE to get the correct scale so they could print out parts of the hand with a 3D printer and construct it. The materials for the projects were funded by SWEN's sticker and key chain sales.
McKenzie said he is very grateful to SWEN for making the prosthetic hand for him.
"There's a lot of work that goes into it," said McKenzie. "It's not easy stuff."
Because McKenzie still had most of his hands below his fingers intact, the members had to make changes to the original blueprint.
The final prosthetic hand was built to be worn over McKenzie's palm, with rubber fingertips for grip and strings running from fingers to wrist so the hand would close when he bent his wrist.
"We tried so many methods to get it right, and it ended up being a really big process," senior Jennifer Grenier, one of the presidents and co-founders of SWEN, said.
SWEN was founded a few months after school started last year, and is based off of an organization that some colleges have called Society for Women in Engineering. Despite the name, Grenier added that boys are welcome to join as well.
Grenier said SWEN was initially about learning engineering and design programs.
"But we wanted to make it more about how we can actually make a difference in someone's life by using the skills and the resources we have at this school, which are so extensive," Grenier said.
The prosthetic hand project was mainly led by Grenier, Alumna Sandra Serbu ('19) and junior Lucy Traub.
"I was really proud of the girls because they did everything," said Christi Rose, SWEN sponsor and engineering teacher. "They led everything, they initiated everything, they were really respectful."
Rose said the SWEN members were good about staying on schedule throughout the process as they realized "there was a person on the other end that was waiting for their hand."
Jason Berg, career and technology teacher who helped with the project, said it took a lot of time and dedication with many obstacles along the way.
For example, Rose said the 3D printer at GBN didn't print the type of plastic necessary for the prosthetic. So, the members had to go back and forth between testing at GBN and printing the actual parts at Glenbrook South, whose 3D printers printed the lighter, thermoformable (able to be heated and molded to different shapes) type of plastic that they needed.
According to Grenier, after working through many obstacles along the process, the members now have more experience and problem-solving skills than before.
SWEN is planning to start another project with e-NABLE this school year, said Grenier.
"[Making the prosthetic hand] wasn't just a one day, one week, one month project — it was a year-long project," said Berg. "If they could pull off something like this at the high school level, I can't wait to see what they do at the college level."