Alumni recall experiences as Spartan mascot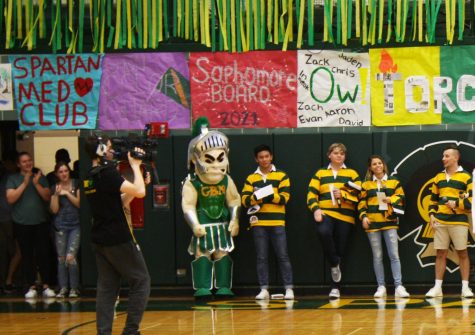 Laughing to himself, alumnus Brett Zera ('17) recalled wearing the Sparty costume during his senior year Homecoming football game. He posed for pictures and high-fived the middle school students standing by the concession stand. Then, disrupting the normalcy of pictures and high-fives, a group of about eight middle school-aged kids came up to him, kicking and pushing Zera in a playful attack. Though it is now a funny memory, Zera was unable to defend himself until a parent came to control the children. 
When Zera heard the Student Association Executive Board was looking for someone to be Sparty, he became interested knowing he had an opportunity to fill the position. He ended up wearing the costume during his senior year for the Homecoming assembly, parade and football game.
Alumnus Tim Schwall ('16) stepped up to be Sparty for one football game during his senior year. During the game, Schwall stood at the bottom of the student section and talked with some of the SA Board members when his identity was almost revealed.
"My sister tried to take the Sparty helmet off of my head," Schwall said, laughing before describing the moment. 
The only thing that preserved his anonymity was the chinstrap that kept the helmet on. 
According to Mike Tarjan, assistant principal of Student Activities, he has a conversation with the student who will wear the outfit regarding expected behavior before they perform. 
Zera said his conversation with Tarjan was about recognizing that Sparty represents Glenbrook North. Sparty should use common sense to not behave over the top to prevent taking attention away from what the assembly is for. 
Alumnus Miles Kadish ('19) said being on the court as Sparty during assemblies gets "pretty rowdy" because no one knows who is wearing the costume.
During one assembly, Kadish almost fainted while wearing the costume.
"It's like probably 150 degrees inside the Spartan outfit and I was dancing, and then I almost passed out," Kadish said.
Tarjan said it is very important for Sparty to stay hydrated. 
"It's gross," said Tarjan. "It's so hot in that thing." 
It is "awesome" to see students and faculty get excited once Sparty is on the court, Tarjan said.
"Whenever I would picture strong high school spirit, either seeing it growing up with older sisters or on TV or anything, there was always a mascot there," said Zera. "So I think it's great for school spirit to have a mascot, and it was fun … to be it one day."