New perspectives on prospective electives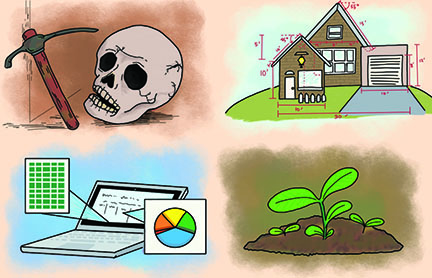 When it comes time to register for classes, a long list of courses ranging from those required for graduation to Advanced Placement classes to electives fight for space on students' schedules. Sometimes, this conflict results in students deciding not to pursue the classes they are interested in or think they will enjoy taking. The Glenbrook North master schedule is developed with the goal of maintaining all electives in order to offer a wide range of opportunities to all students, said Eric Etherton, assistant principal of Student Services, in an email correspondence. Below are a few lesser known classes at GBN that students can learn more about.
Anthropology
Anthropology is a semester-long course in the Social Studies Department that covers human evolution, archaeology and various cultures and their practices. The class is open to sophomores, juniors and seniors, and the sole prerequisite is History of World Civilizations. Anthropology teacher David Vincent said in a video conference that Anthropology has topics for students interested in exploring sociology, psychology or culture. There is also a scientific component in human evolution and archaeology. "There's a lot of detective work [in archaeology]," said Vincent. "It's … solving mysteries and putting together the clues." Senior Jenna Agan, a current Anthropology student, said in a video conference that the overlap between the class and other subjects makes it different from a regular history class. "Because we cover such a wide range of topics, even if you're not really enjoying what you're learning in that unit, there's always more to enjoy in a different unit," Agan said.
Architecture Studio
Architecture Studio is a year-long course in the Career and Technical Education Department that focuses on residential design, including principles and elements of design such as floor plans and construction techniques. There are no prerequisites and the class is open to all grade levels. Architecture Studio teacher Jason Berg said in a video conference that architecture shares similarities with engineering but is more artistically focused, whereas engineering is more objective. "You're still dealing with structures and how things stand, but you're more so looking at the aesthetic of spaces … and different styles and movements and flow," Berg said. When making projects to assign in class, Berg said he adapts projects from various colleges' architecture programs and designs his own. "I'll pull in some from Miami University [in] Ohio, or MIT, or University of Illinois [at] Urbana-Champaign, and we'll kind of build a curriculum around these different projects," Berg said.
Computer Applications
Computer Applications is a semester-long course in the Career and Technical Education Department that teaches internet technology skills and advanced features in computer applications such as Microsoft Word and Excel. There are no prerequisites and the class is open to all grade levels. Computer Applications teacher Kimberly Karzen said in a video conference that the course is 100 percent project-based, allowing students to be creative while using different programs such as WeVideo and Pixlr. The curriculum mainly focuses on preparing students to meet certain demands of future colleges and employers, such as giving professional business presentations or collecting and organizing data, Karzen said. "I had a former student from GBN come back and say that, at Indiana [University], everything we had learned was what he was now needing to complete his business requirements. "Now that Excel is [a part of] required courses in [some] colleges, it's important that students are learning these advanced features like functions and formulas and graphing," Karzen said.
Plant Science
Plant Science is divided into two separate, semester-long courses in the Science Department. Plant Science 1, offered in the first semester, covers plant physiology. Plant Science 2, offered in the second semester, covers gardening techniques and environmental sustainability. Students may take either or both of the two courses in any order, but must have passed a biology class prior to taking either. Plant Science teacher Maureen McDonaugh said in a video conference that students spend class time taking notes, doing projects and, in a typical year, working in the greenhouse. "Being in the greenhouse … gives you just a sense of relief and comfort as you walk in, which I think a lot of kids need to experience," McDonaugh said. Senior Ella Schmitt, a current Plant Science 1 student, said in a video conference that she loves doing hands-on work with plants for class. "[The assignments] force you to have a little self-care, relaxation moment of just sitting and gardening," Schmitt said.