Couple to climb Mount Kilimanjaro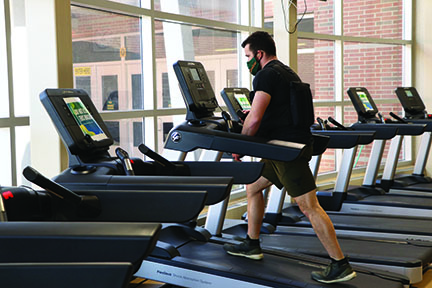 When discussing honeymoon options, P.E. teacher Justin Weiner and his wife Danielle Weiner knew they wanted to do something different.
"Most people go and sit on the islands and relax," said Justin Weiner in a video conference. "We started looking at each other's bucket lists and said, 'Well, [climbing Mount Kilimanjaro is] top two for both of us. This is an easy solution.'"
While he is already physically fit, Justin Weiner said climbing Mount Kilimanjaro requires more endurance than he has. To improve stamina, he started body composition training, which involves fat-burning and muscle-building exercises.
He utilized his background in fitness and online guides to improve his endurance, Justin Weiner said. One guide suggested rucking, which is jogging with weights. 
"I threw 20 pounds on, [put on] my hiking boots and I did a one-mile ruck," said Justin Weiner. "Holy cow, I was pretty darn tired." 
Danielle Weiner said in a video conference that she has not started training but plans to begin next month with a focus on building strength and adding cardiovascular endurance training closer to the climb.
According to Justin Weiner, while hypothermia and rock slides are life threatening dangers when climbing, Justin Weiner said he is more worried about altitude sickness.
"Any time you're in the mountains, that's something you're concerned with because there's not a lot you can do to prevent it aside from acclimating yourself," Justin Weiner said. 
Social studies teacher David Vincent said in a video conference that he witnessed the effects of altitude sickness while climbing Mount Aconcagua in Argentina. 
"We had met this group that was climbing the mountain," said Vincent. "Word started to trickle out that there had been a tragedy. 
"One of the climbers in that group succumbed to high-altitude pulmonary edema, and his lungs had filled with fluid," Vincent said. 
Reaching the summit at the cost of one's health is not worth the risk, Vincent said.
"Better to be alive than to tag a summit but not live to tell the tale," Vincent said.
The decision to climb Mount Kilimanjaro comes from a history of loving the outdoors for Justin and Danielle Weiner.
According to Danielle Weiner, she grew up with a family who enjoyed frequent camping trips.
According to Justin Weiner, he has climbed Mount Princeton in Colorado. He also camped in the Badlands National Park, where he noticed a bison on the side of the road and took a picture, Justin Weiner said.
"You can't get those [types of experiences] unless you put yourself out there, unless you go on these experiences, unless you get out of the 'comfort zone,'" said Justin Weiner. That's really the main motivation for both my wife and I."