Scandal draws attention to application honesty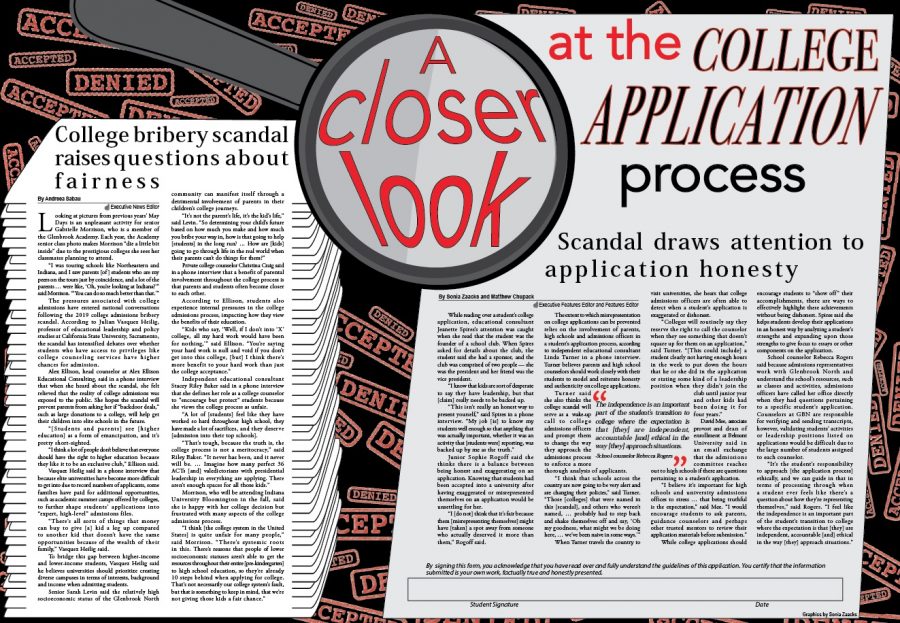 Sonia Zaacks and Matthew Chupack, Executive Features Editor and Features Editor
May 23, 2019
While reading over a student's college application, educational consultant Jeanette Spires's attention was caught when she read that the student was the founder of a school club. When Spires asked for details about the club, the student said she had a sponsor, and the club was comprised of two people — she was the president and her friend was the vice president. 
"I know that kids are sort of desperate to say they have leadership, but that [claim] really needs to be backed up. 
"This isn't really an honest way to present yourself," said Spires in a phone interview. "My job [is] to know my students well enough so that anything that was actually important, whether it was an activity that [students were] reporting, was backed up by me as the truth."
Junior Sophie Rogoff said she thinks there is a balance between being honest and exaggerating on an application. Knowing that students had been accepted into a university after having exaggerated or misrepresented themselves on an application would be unsettling for her. 
"I [do not] think that it's fair because them [misrepresenting themselves] might have [taken] a spot away from someone who actually deserved it more than them," Rogoff said. 
The extent to which misrepresentation on college applications can be prevented relies on the involvement of parents, high schools and admissions officers in a student's application process, according to independent educational consultant Linda Turner in a phone interview. Turner believes parents and high school counselors should work closely with their students to model and reiterate honesty and authenticity on collegeapplications. 
Turner said she also thinks the college scandal willserve as awake-upcall to college admissions officers and prompt them to change the way they approach the admissions process to enforce a more thorough analysis of applicants.
"I think that schools across the country are now going to be very alert and are changing their policies," said Turner. "Those [colleges] that were named in this [scandal], and others who weren't named, … probably had to step back and shake themselves off and say, 'Oh my goodness, what might we be doing here, … we've been naive in some ways.'"
When Turner travels the country to visit universities, she hears that college admissions officers are often able to detect when a student's application is exaggerated or dishonest. 
"Colleges will routinely say they reserve the right to call the counselor when they see something that doesn't square up for them on an application," said Turner. "[This could include] a student clearly not having enough hours in the week to put down the hours that he or she did in the application or stating some kind of a leadership position when they didn't join the club until junior year and other kids had been doing it for four years."
     David Mee, associate provost and dean of enrollment at Belmont University said in an email exchange that the admissions committee reaches out to high schools if there are questions pertaining to a student's application.
"I believe it's important for high schools and university admissions offices to stress … that being truthful is the expectation," said Mee. "I would encourage students to ask parents, guidance counselors and perhaps other trusted mentors to review their application materials before submission." 
While college applications should encourage students to "show off" their accomplishments, there are ways to effectively highlight these achievements without being dishonest. Spires said she helps students develop their applications in an honest way by analyzing a student's strengths and expanding upon those strengths to give focus to essays or other components on the application.
School counselor Rebecca Rogers said because admissions representatives work with Glenbrook North and understand the school's resources, such as classes and activities, admissions officers have called her office directly when they had questions pertaining to a specific student's application. Counselors at GBN are responsible for verifying and sending transcripts, however, validating students' activities or leadership positions listed on applications would be difficult due to the large number of students assigned to each counselor. 
"It's the student's responsibility to approach [the application process] ethically, and we can guide in that in terms of processing through when a student ever feels like there's a question about how they're representing themselves," said Rogers. "I feel like the independence is an important part of the student's transition to college where the expectation is that [they] are independent, accountable [and] ethical in the way [they] approach situations."