Combining fashion with passion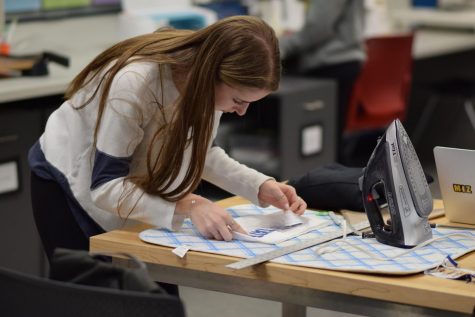 When senior Sarah Glass received an order on short notice from a customer in New York, she spent a number of consecutive days in the Collaboratory at the Northbrook Public Library until closing time, producing a patched crew neck sweatshirt and an acid-washed T-shirt.
Glass said she works on clothing orders in addition to completing schoolwork and attending extracurricular activities.
In the fall of 2019, Glass and seniors Julia Foster and Sophie Rogoff launched an Instagram account called @hardcorecollege. They sell customized clothing and college apparel, with customers ordering from as far as Florida and New Jersey.
To select a design, customers can choose fonts, logos or patterns on past orders posted on the account or ask for a completely new print. Glass and Foster then print the design on vinyl or transfer paper and lay it onto a sheet that fits inside the Cricut Maker in the Collaboratory. The machine cuts out the design which they then iron onto the clothing. Finished products are delivered in person or shipped to customers.
Printing designs on clothing was an unfamiliar task at first, Glass said. It had to be learned by trial and error, which required much patience. Vinyl is also expensive and has to fit in the machine a certain way to successfully print the design, initially making the Cricut Maker difficult to use. 
When the business began, Glass, Foster and Rogoff ironed designs printed on transfer paper onto old, random shirts they found at their houses.
"It was really frustrating at first," said Glass. "Once you iron [a design onto a sweatshirt], you can't really go back, and so we had to keep reordering [sweatshirts]."
After creating three to four products, it became easier to print and iron designs, which allowed for more detailed, colorful patterns to be printed on the clothes, Glass said.
Senior Bella Zera purchased a cropped white sweatshirt with her future college's name, "Butler," written in blue and decorated with stars after she saw @hardcorecollege's posts with customers wearing their purchases.
"I think [@hardcorecollege] is really taking advantage of social media in a good way, … and [their account] is very easily accessible," Zera said.
Junior Lauren Segal runs an Instagram account called @beadazzledjewelrybylauren, where she sells custom jewelry. 
Celebrities' accessories serve as sources of inspiration, and seeing celebrity Zendaya wear costly, designer safety pin earrings influenced her creation of an inexpensive replica, Segal said.
Since third grade, Segal said she has been creating jewelry for various events and venues, such as Northbrook's Art in the Park and the Beth Shalom Holiday Boutique. Segal's creativity flows when she cracks open her beading kit in the late hours of the night, laying out different arrangements and multi-colored bead combinations on the ground beside a big bucket of beads.
"I think beaded jewelry has so much character to it because you can't find it anywhere else. 
"It's unique to the beads, to the artist and the craft," Segal said.
Segal said she plans to pursue a business-related career in the future since she experienced running a business all throughout high school by keeping track of jewelry costs and profits. 
According to Glass, who viewed other accounts' posts on college apparel before the business started, it is cool to see people wearing @hardcorecollege clothing around school.
"[Foster, Rogoff and I] are really good at working together when [work] has to be done," said Glass. "[Seeing people wear our products] is really rewarding."