ACT test change allows section retakes, online testing
Ellie White, Eli Traub, News Editor, Page Editor
December 13, 2019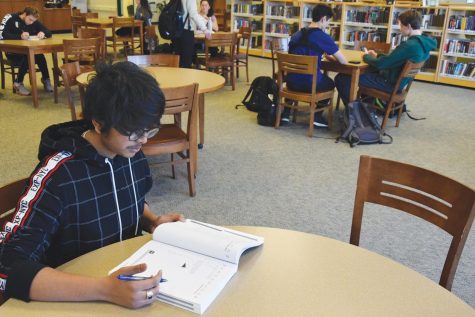 When senior Jeremy Livshots took the ACT, he felt the test was very time-sensitive and placed emphasis on speed rather than understanding the material. Since Livshots considers himself a slow reader, he felt rushed to complete the reading and science sections of the ACT.
"It's always a hurry," said Livshots. "It's always a rush. You don't always get to show what you know."
Beginning in Sept. 2020, the ACT plans to allow students to retake one or more sections of the four-part test, rather than the whole ACT. Test-takers would be required to take the full ACT at least once before they could retake individual sections. For students who have taken the test multiple times, the ACT is now planning to create a superscore to send to colleges during the admissions process, as opposed to the student having to send each score individually.
The ACT also plans to implement online testing as an option, which must be done at an official test center and on national test dates. The online component is scheduled initially at select test centers, before eventually expanding to all testing centers. As of Dec. 10, the ACT has not announced where the initial online-testing centers will be located.
Junior Vyshak Paruchuri said he feels the online component of the change could be helpful for students because he thinks it is easier to focus on a screen during a test.
According to an official ACT press release on Oct. 8, test results should be available faster for those who take the test online.
In a phone interview, Edward Colby, a spokesperson for the ACT, said the goal of the changes was not to have more students choose to take the ACT over the SAT, but to better show students' abilities to colleges.
"We have been competing with the SAT for 60 years," said Colby. "Beating the SAT wasn't the point here, it [was] to give students a better testing experience and the ability to better showcase their abilities to college."
Colby said, according to research done by the ACT, superscore results from retaking individual sections are not predicted to be higher than superscores from retaking the whole test.
In an email interview, Michal Strawn, a college consultant at BWS Education Consulting, said he does not believe the change will have a significant impact on college admissions.
"While it is certainly helpful for students that they will be allowed opportunities to focus on one section, a rising tide lifts all boats," said Strawn. "These changes won't affect the aptitude of any given student, so I would imagine that students will remain equally likely to be admitted to any given college."
While Colby did not provide the exact prices of an individual section retake, he said they are expected to be less expensive and take less time on test day than the whole ACT.
Strawn said he believes socioeconomic status could play a role in how beneficial the change is for test-takers.
"If single-subject testing is less expensive for students, it could open up the door for students to retake the test who previously could not, due to monetary concerns," Strawn said.
In an email interview, Matt Bonser, director of admissions at Colorado College, said it is highly unlikely that colleges will stop accepting the ACT as a result of this change.
"[The change] may continue the conversation within colleges about how much weight is appropriate to place upon standardized testing compared to other factors, such as grades and rigorous coursework," Bonser said.
According to Colby, the ACT will share research about why they feel the superscore option is valid and better reflects a student's likelihood of success at college.
Colby said he hopes colleges react positively to the new ACT section retake option.
Livshots said he believes with this new ACT change, students' goal scores for college admissions are going to rise.
"It's going to be a lot more people achieving your target score [so] you're going to have to set your target score higher and that's going to add to the stress … [and] the cost of it," said Livshots. "It's worse for everyone."
According to Paruchuri, future students always have some different advantages when it comes to standardized testing.
"There's always going to be an advantage that we get that previous years never got.
"It's just constant change," said Paruchuri. "We just have to work with what we have."