Principal to step down after current school year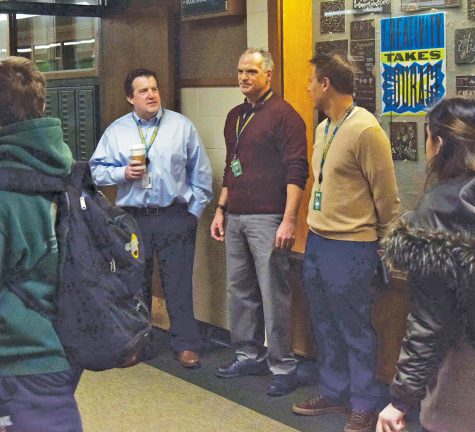 After five years in his current position, Glenbrook North Principal John Finan said in an email directed to the GBN community that he will be stepping down after the 2019-2020 school year "after giving deep consideration to the needs of my family and my own personal interests."
Finan plans to return to GBN as a Spanish teacher while also assuming various district-level administrative responsibilities, including the oversight of summer school and the Illinois State Seal of Biliteracy.
According to Charles Johns, Glenbrook High School District #225 Superintendent, the district will be using the independent search firm, BWP & Associates, to find a new principal. Johns  said he believes in having very inclusive search processes that involve faculty, staff, administration, students and parents.
In the best-case scenario, Johns said the final choice for the new principal will be brought to the first Board of Education meeting in March.
Josh Morrel, instructional supervisor for the World Language Department, said during his time at GBN as both a Hebrew teacher and instructional supervisor, he has received a lot of support from Finan.
"Because [Finan] was a language teacher for so long, he understands the importance of what we are trying to do," said Morrel. "Having someone like that in the position of principal … gave me a lot of confidence [in] doing my job."
According to Finan, he has missed being a teacher and always envisioned returning to the classroom as one. Through his experience as both associate principal for administrative services and principal, Finan has been able to observe hundreds of classes. In doing so, he believes he has absorbed "a library of ideas" to carry with him back into the classroom.
As a Spanish teacher, his goal is to be a good role model for students by inspiring them inside the classroom and supporting them in their other areas of interest, Finan said.
"It's not just the transfer of information from what you teach, but … it's how can I support [the] students' bigger picture … goals and aspirations," Finan said.
According to Morrel, Finan will be an exciting addition to the World Language Department and will bring a new perspective and energy.
Finan taught Spanish at both the high school and college level before coming to GBN in 2008 and taking on the role of associate principal for administrative services.
"It was very exciting [when I got hired as associate principal]," said Finan. "I knew I was coming to one of the best high schools in the country."
After working as GBN's associate principal for seven years, Finan was hired as principal in 2015. Finan said he was attracted to the role of principal due to the positive atmosphere and high quality of the school.
"There's so much [positivity] going on here that it's exciting getting to be in the leadership role where you have students achieving in so many areas," said Finan. "Just being able to be part of that success is exciting and I think it's one of the main attractions to the job."
Ed Solis, associate principal for curriculum and instruction, said Finan will leave a legacy of genuine care for the school, community and students.
"[Finan] never puts GBN out of his mind," said Solis. "He would work 24 hours a day when needed."
Solis said it has been a pleasure to work with Finan and to learn from his work ethic, communication skills and timeliness in getting back to people.
According to Finan, he feels one of his biggest accomplishments as principal was bringing the Illinois State Seal of Biliteracy to District #225. Finan said bringing the Seal of Biliteracy to the district interested him due to his language-teaching background.
According to Johns, Finan has helped teach him about the community, staff and students at GBN along with the school's culture and history.
"It's always been fun going on building tours or walkarounds with Finan because you can tell how much he really loves the school and loves the community … his heart's here," Johns said.
Finan said he looks forward to working with his successor in order to keep GBN on the "course of greatness" that it has been on  from the start, along with continuing to be a part of the school community as both an educator and parent.