Editorial: Where GBN spirit goes to die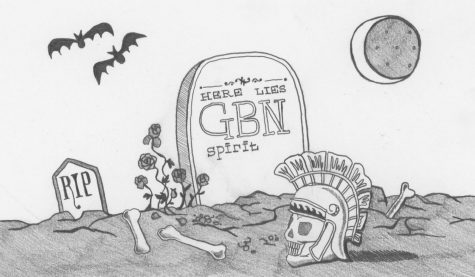 With the hype around other schools' homecomings going viral on social media, you may have walked into school on Tuesday, the start of Homecoming Week, expecting students to be bundled up in their warm and cozy pajamas.
On Wednesday, you may have arrived bubbling with excitement, hoping to see students sporting a variety of jerseys, boasting their favorite team to peers.
You may have shown up Thursday morning envisioning students matching with two of their friends, whether their outfits be Hawaiian-themed or Thing 1 through Thing 3.
When Friday finally arrived, you probably expected that students would be decked out in our familiar colors of green and gold.
But instead, each day you were met with bitter disappointment.
Glenbrook North has a problem: we have established a culture of passivity towards school spirit and a lack of motivation to participate in spirited activities. A culture of blending in instead of standing out.
On spirit days, there is limited participation rather than a showcase of school unity. At home football games, the students from the opposing schools pack the stands and stay the duration of the game, whereas our crowds are never consistent and a significant portion leaves at halftime. During assemblies, some students pop balloons, destroy decorations and refuse to participate in the activities that are supposed to make assemblies fun. That's not to mention the students that get called out of school to go home.
Social norms that discourage participation have invaded our school and infected our way of life. Rather than acting based on our individual beliefs, we conform to these norms.
And while we all still complain that our school is "lame," no one makes the effort to create a fun and unique school environment. If we want to make our community special, we have to do it ourselves and we have to do it together as a student body.
As cliche as it sounds, most of us only get four years of high school. There are limited times in our lives where we will be able to go bananas at assemblies, dance with our best friends at Homecoming or go all out in crazy outfits during Spirit Week. We have the ability to take our culture of conformity and transform it into a tight-knit, creative and spontaneous community.
Solet's claim this opportunity. Dress up for the next Spirit Day. Attend our next sporting event. Throw on some green and gold and go bananas at our next assembly.
And while some students may still insist they are genuinely disinterested in showing their school spirit, we respond, "Way to be a proud and loyal Spartan!"