Boys gymnastics team places third at state
T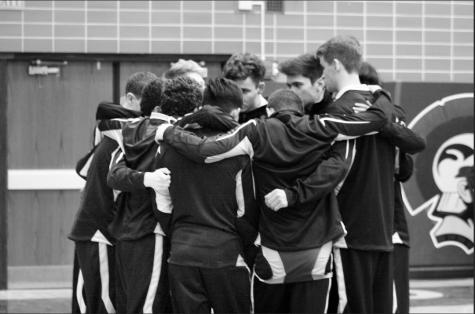 he boys gymnastics team watches at the sectional meet as their teammate, senior Cameron Hardegree, performs on parallel bars, erupting into excited cheers and applause as he lands a double back tuck dismount.
Hardegree finished third on parallel bars with a score of 8.95 out of 10 and second in all-around with a score of 54.05.
According to senior Kevin Kapustka, before the start of the season, the team set a goal to win state. Kapustka said that although in the past practicing together in the offseason was not pushed on the team, this year he and other seniors pushed the idea of having a more rigorous offseason to make sure that they would be closer to meeting their expectations when the season started.
They trained at the American Academy of Gymnastics, where they worked on conditioning, strength training and skills to put in their routines during the season. Kapustka said building up endurance to be able to perform routines without getting out of breath is an important part of the offseason.
Freshman Drew Mutchnik said the team's first meet did not go as well as they would have liked with a loss to Libertyville. However, at the team's first invite of the season at Niles West, they saw their work pay off when they earned first place out of 14 teams.
Kapustka said that in his four years on varsity gymnastics, the team had never won an invite.
"Being able to finally lift that trophy up with the guys on our team this year … really put a smile on my face," Kapustka said.
According to Mutchnik, the team's victory at the Niles West Invite gave them hope for accomplishing their goal of winning state.
After spring break, the team placed first at the Mundelein Invite, ahead of 16 other schools which included six of the top eight teams in the state, according to head Coach Ryan Dul.
Dul said the team's work in the offseason has contributed to their improvement this season.
  Their highest score increased from 141.9 points last year to 159.45 points this year, which they scored at the Mundelein Invite.
The team's seed, which is based on an average of the team's scores at previous meets, was within the top three in the state throughout the season. They won their sectional meet on May 2 with a score of 157.63 points, qualifying them as a team for the state meet. In addition, seven gymnasts qualified for the state meet as individuals.
At the state meet on May 10, the team placed third with a score of 157.7.
According to Dul, the team's bond helped contribute to their success. At the end of every practice, co-captains Kapustka and Casey Mutchnik brought the whole team together and called out the teammates who had a really good practice day or who gained new skills. Kapustka said they call this recognized person the "practice warrior."
"I feel like it's kind of like a goal for everyone to strive towards, to be that 'practice warrior' and be acknowledged by your teammates, to be able to break the huddle in front of everyone," Kapustka said.
Dul said due to the depth of the team, not every gymnast could get a spot in the particular event where he wanted to compete. However, they used the limited spots as motivation and were supportive of each other whether they get the spot or not.
"They all put the team ahead of themselves, which is huge," said Dul. "None of the guys on the team are selfish, they will sacrifice if it's going to be better for the team."
Kapustka said before meets, the team would go over to someone's house to "detox from all the stress" so that once they went to compete, they were focused on winning.
"We all have our … rituals before our meets," said Kapusta. "I go to Dunkin' Donuts and get the most caffeine I can in my body to get amped up for our meets, and then … other guys have different ones, like [Casey Mutchnik] will go home and he'll chug a glass of milk and stuff like that, it's like certain things we all do to get ready for the meet."
In addition to bonding before meets, Kapustka said the team celebrated after successful varsity invites.
"The bus ride home from winning … you can't hear each other because we're just blasting music, we're just all celebrating, cheering each other on," said Kapustka. "I feel like our team has a bond not only inside the gym, but outside the gym, and that's what so special about our team this year."