Years before applications are due, athletes begin recruitment process
Alexandra Chertok, Haley Sandlow, Executive Opinions Editor, Opinions Editor
December 13, 2019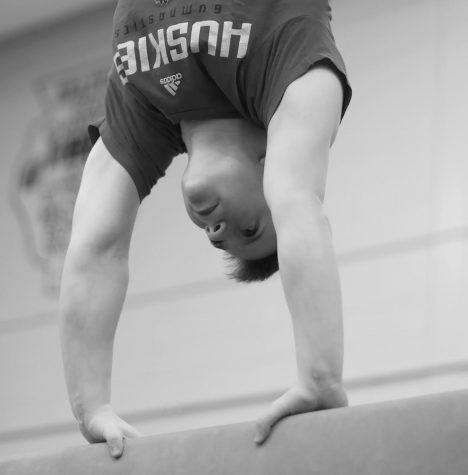 Senior Isabelle West felt both nervous and excited as she competed at the 2018 Junior Olympic National Championships, where college coaches lined up behind a table stretching wall to wall. The flags of each college were draped over the table, representing the different schools that all had the same goal: recruiting gymnasts for their teams.
West officially signed her National Letter of Intent on Nov. 16, 2019, committing to be on the Northern Illinois University women's gymnastics team. She said she first started sending emails to college coaches as a freshman, expressing her interest, describing her skills and referring them to her YouTube channel featuring training updates and her routines at competitions.
"At a younger age when it's all starting, you don't know what kind of school you want, what kind of atmosphere you like.
"It's kind of just like putting your name out there and seeing who will respond back to you," West said.
Sam Morreale, head women's gymnastics coach at NIU, said in a phone interview that when scouting recruits, he tries to go to competitions in order to see multiple athletes. However, he said there has been more success with gymnasts who reach out themselves and show interest in the program.
West said she verbally committed in December of her junior year, meaning she had entered a non-binding agreement to play at NIU, not yet eligible to sign a National Letter of Intent.
According to Morreale, athletes may only sign the fall of their senior year or later during the official signing period, otherwise the contract is null and void. Either party can back out of a verbal commitment at any time, although it's "based on the coach and how they stand by their word." Morreale said in gymnastics, a verbal commitment is similar to a binding one.
Junior Riley Philbin, who plays soccer at the club level, said she started looking into colleges as a freshman and began receiving offers to play for schools at the end of her freshman year. She said she is currently verbally committed to play soccer at the University of Wisconsin-Madison.
Philbin said she felt an instant connection with UW-Madison after attending a soccer camp at the school in the summer before her sophomore year. According to Philbin, she was offered a position on the team in October of her sophomore year. She said on the day she had set up a phone call with Marisa Kresge, assistant women's soccer coach at UW-Madison, knowing she would receive the offer, she could barely focus on her schoolwork.
"[When] they gave me the offer and I committed, … I definitely cried," Philbin said.
School counseling intern Adrian Remeniuk, who attended Glenbrook South, said after verbally committing to play soccer for UW-Madison his junior year, he didn't apply to any other universities. From the perspective of a counselor, however, he recommends students still apply to other schools even if they have already verbally committed to play a sport in college.
"If they're going to get injured and all of a sudden, athletically, they're incapable of going and playing that sport in that college, … [they] need a backup school just in case," Remeniuk said.
West said even after verbally committing as a junior, she still applied to a few other schools at the beginning of her senior year before officially signing with NIU. West said she thinks a misconception about athletes who verbally commit before their senior year is that they don't have to apply to the school or take standardized tests. She said in her experience, colleges emphasized academics as a part of recruiting.
West said she was both thrilled and relieved after verbally committing.
"Being able to call my future college coach and just tell him that I made my decision, he was so excited and everyone was so excited on my team.
"[It] was just an amazing feeling," West said.