Capalbo takes charge as head coach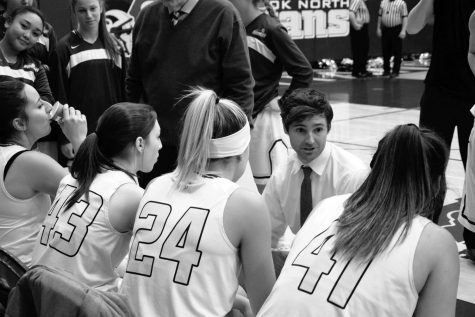 After back-to-back losses in the Blenner Classic at St. Viator High School over winter break, the Glenbrook North girls basketball team had to figure out a way to bounce back and finish the tournament strong. The Spartans' record was 7-6 after the second tournament loss and the team was looking to get back into its winning groove. With his team feeling down, Nick Capalbo, head girls basketball coach, needed to get the girls focused for the two games left in the tournament. 
"Capalbo sat with us on the bus on the way home [from the tournament] and normally he doesn't sit with us," said senior Christina Christos, a four-year varsity player. "When we got off the bus he said, 'The purpose of me sitting with you is to show you all that you have to stick together. I know that right now is a [hard] time, but it's also the time that you can't be falling apart from each other.' It was really helpful to all of us."
The Spartans went on to win the final two games of the tournament.
Capalbo was named the girls head basketball coach in the spring of 2019 after previous coach Danielle Fluegge stepped down. Capalbo, who was the JV girls coach at GBN last year, said it was his dream job to run a girls basketball program.
According to Christos, Capalbo always makes sure his team is prepared for games by leading new activities. Before the team's game against Highland Park, Capalbo led them through a visualization activity in which he told them different scenarios and asked them to picture what they would do in those situations.
"[The activity] was super helpful because I knew how to react before the game even started," Christos said.
Capalbo has proven to be intense during games. He is always on his feet, constantly pointing out what he sees and where the girls should be. 
"I've known these girls for a while now, so I think we have a really good relationship," said Capalbo. "When they know I'm pushing them, they don't take it personally. I told them at the beginning of the season, 'Don't take anything I say [personally]. I'm never mad at you, you guys are great kids, but I'm going to push you. And sometimes it might feel like I'm yelling at you or coming at you, but please don't take it personally, I just want to get you guys over the hump.'"
Capalbo began his career coaching basketball for the Crystal Lake feeder program. He was the head coach for the eighth grade boys and girls teams in Crystal Lake. Capalbo began working at GBN in 2017 and now teaches in the Special Education Department. 
The team had an overall record of 14-12 as of Feb. 10. 
According to Capalbo, his goal is for the team to win a regional title this year. The Spartans will play in the regional semifinals at GBN on Feb. 18. 
"Obviously it'd be great to win a state championship, but this is [my] first year so I don't know if that's going to come true, but a regional is a goal we could reach," Capalbo said.