Varsity lacrosse plans to use virtual reality in practice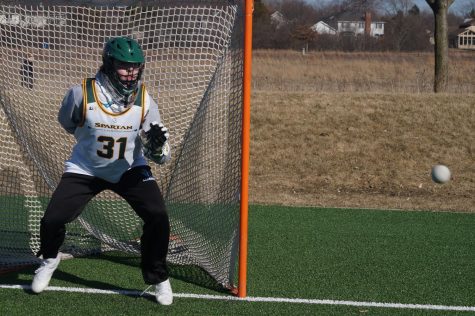 When senior Reid Milkens first heard about the football team's use of virtual reality during fall practices, he immediately thought it had potential to be implemented into the lacrosse program. Although Milkens plays midfield, he sees VR being most applicable to goalie training.
"A quarterback and a goalie kind of have similar perspectives as they're … seeing over the entire field, so I definitely knew that it could be something useful to us," Milkens said. 
Prior to school closing due to COVID-19, the varsity lacrosse team was planning on using VR to provide defensemen and goalies with a new style of training that aims to improve various skill sets such as muscle memory and team positioning. For offensive players, Head Coach Justin Georgacakis planned to fly a drone over the practice field to capture footage that is better suited for offense.
The VR film planned to be recorded using a 360-degree camera and then uploaded to YouTube, which gives players access to the film at any time. Using a phone or tablet, the player can rewatch the film as if he were in the moment, giving him a first-person view of drills completed in practice.
According to Georgacakis, muscle memory is an important aspect of goalie training because of the mental repetitions and consistent practice of quick eye movement. All players need are five- or six-minute practice segments during the week to develop skills for specific game situations. 
Georgacakis first used VR cameras in Driver Education classes as a unique teaching tool, then later brought the technology into football before thinking of transitioning it to lacrosse. 
Milkens said the VR camera has the capability to impact the entire defense. Not only will defenders be able to see their mistakes, but goalies will be able to identify certain positional mistakes that defenders or midfielders may make.
"During the game, [the goalie is] most likely focused on the ball, he can't always be babysitting all the defenders," said Milkens. "So he's able to see where I or another player messed up and then [he] can go ahead and point that out. That can just benefit the defense as a whole and give a better perspective to the goalie."
According to Omar Ahmad, director of sports partnerships at STRIVR Labs, a software company that focuses on immersive learning through VR technology, one of the biggest benefits VR provides is allowing backups and injured players to continue to practice even though they are not actively participating. Although the starter takes the majority of the live repetitions, the backups can gain experience through VR.
Goalie Cade Bauer said the biggest aspects of his training include reaction time and eye movement, both with which he believes the VR will help. 
Ahmad advises players to limit their VR use to 30 minutes per session, as the headset experience is very immersive and can get uncomfortable after a long period of time.
Milkens compares VR technology to test corrections in class, as it provides players with a chance to look back and correct their mistakes.
"If [athletes] have a camera on their helmet or on the goal and they can go back and watch that film from their own perspective outside of that moment, they'll be able to see and pick up on things that maybe they didn't comprehend at the time," Milkens said.