Cross country adapts to regulations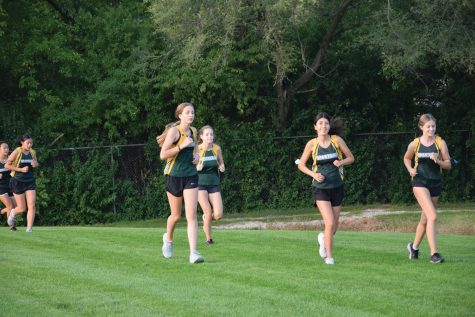 The smack of a high-five. Cheers from the sidelines. The breath of a neighboring runner. These are the sounds senior Nick Ihrke is accustomed to hearing as he approaches the starting line at each cross country race. But at the boys cross country team's first meet at Niles West on Sept. 5, the silence was unsettling.
"It was dead silent before the gun went off," said Ihrke in a phone interview. "It was a sort of surreal experience on the line."
In prior years, the Niles West meet was packed, Ihrke said. This year, each race was limited to a total of 50 people, including runners, coaches and officials.
John Catalano, assistant principal of athletics, said in a video conference that the 50-person limit is one of the guidelines released by the IHSA for the 2020-21 cross country season to reduce the spread of COVID-19. 
While no spectators were allowed at Niles West on Sept. 5, Glenbrook North announced on Sept. 16 that spectators are allowed at cross country meets provided they wear masks and practice social distancing. Spectators may watch from outside of the fence on the south and east sides of the cross country course.
Bob LeBlanc, head girls cross country coach, said in a video conference that as of Sept. 9, practices for the boys and girls teams have consisted of three workout groups, each fewer than 50 runners. Upon arriving at practice, runners check in and answer health questions on an iPad, then have their temperatures taken. Runners are required to wear masks when they are not warming up, running or cooling down.
According to Catalano, runners are encouraged to stay socially distant at meets and practices. On the first day of practice, Catalano received a call from a community member about a group of runners who had clumped together at a stoplight.
"Well naturally, a couple of girls stopped, waited for the red light, a few more girls caught up, they were at the red light, and then we have 16 kids all clumped up waiting for the light," Catalano said. 
Senior Sophia Marasco said in a phone interview that runners started to wear masks on their wrists or in their pockets during practice to put on when distancing is difficult.
According to LeBlanc, he tells runners they should be able to stick their arms out and rotate without hitting someone to remind them to distance throughout practice. He calls it "tornado arms."
"[Runners] sit down, and they're like, 'LeBlanc's going to say tornado arms!' and then we kind of know that someone got a little too close," LeBlanc said.
Despite the inconvenience of the regulations, Ihrke said he is happy to have a cross country season. As of Oct. 3, the boys team has a conference record of 0-5, and the girls team has a conference record of 1-2. On Oct. 3, the boys team lost to New Trier. Ihrke was first overall with a time of 15:53 for the 3-mile race. 
"Even though the masks are uncomfortable [and] you can't talk, it's important that we just do this," said Ihrke. "Because first of all, it will save people's lives. And second of all, it'll allow us to continue to do this sport this season."