Number of available certified referees declines
Micha Gachpar and Jonathan Lidskin, Features Editor and Sports Editor
November 2, 2018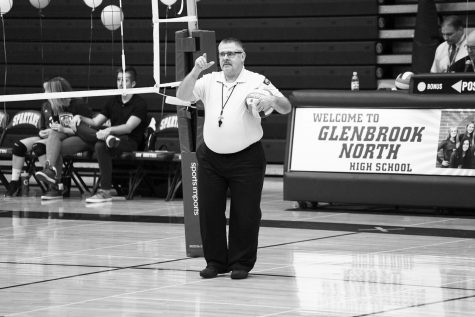 After 41 years working as an official for athletic events, IHSA referee Bill Orris has learned that handling emotional fans and coaches is a part of the job. Quieting angry coaches and containing parents' profanity as they see controversial calls are problems experienced referees are often confronted by. 
Officials are constantly facing the adversity Orris sees, and the number of referees willing to work high school and lower-level athletic events has been decreasing throughout the past several years, according to Athletic Director John Catalano.
Catalano said he has noticed a decline in the number of officials available throughout the Central Suburban League. The most-affected sports are football, soccer, basketball and wrestling, with Glenbrook North wrestling being short 38 officials compared to last year.
"You see signs of [a decline of referees]," said Catalano. "For example, in a sport like football there is one gentleman who assigns officials for all 12 schools. When you speak with him, you notice how they struggle to fill those positions."
According to Catalano, in past years different sets of officials refereed junior varsity and varsity matches. Recently, the same crew of referees has been working both levels of games due to an insufficient number of officials.
Senior John Karteczka said he has seen fewer available referees within his own job as a youth soccer referee, and the amount of games he has been scheduled to referee has increased.
"When you go to games, it's usually you and two other [referees], but lately [referees] always talk about how we have more games to [referee] and we have weekends where we have to [referee] three or four games, just because there's a shortage and they need us to fill the gaps," Karteczka said.
According to Catalano, the lack of availability can be attributed to the culture of abusive fans that trickles down from professional and college-level sports. This is especially common in basketball due to the distance between the action on the court and fans watching in the stands.
"A basketball referee makes $64 per game," said Catalano. "When you consider the travel and the time, it's really not a lot of money at all. You add that trickle-down effect … of people being abusive and inappropriate to officials and questioning every call. For young people especially, is it really worth it? I think that becomes one of the biggest factors."
Karteczka said he was once forced to remove a parent from the stadium as a father began to yell and approach the field after disagreeing with Karteczka's call that a player was offsides.
"Even when you're [refereeing] 12 year olds, when it's like, 0-0, and you make a call that favors one team, the parents yell and say unfortunate terms that they should not be saying in front of 12 year olds," Karteczka said.
According to Karteczka, abuse towards officials in youth soccer increases as kids get older and parents become more involved in their children's athletic careers.
Catalano said although aggression from fans tends to increase with competition, freshman and junior varsity officials are often targeted more by parents who do not realize the referees who work those matches are often placed there due to a lack of experience.
"In freshman football, there are kids who are maybe making mistakes or missing assignments," said Catalano. "The level of competition isn't nearly as intense or maybe isn't what it could be two years down the road. The same is true for officials. A lot of times, it's new officials, so just like the kids playing who might be making an error, the freshman official might be doing the same thing."
Orris said he has noticed inexperienced officials having to take on the role of working varsity matches because of a shortage of numbers.
According to Catalano, the lack of available officials is a statewide problem, and one can see a trend of aging officials when  one pays attention to the referees on basketball or football night.
  "They're older, and there's a graying of the officials, and it's in part because it's not a lot of money, and there is that abuse factor that you add to it, and it doesn't become worth it for that young person to jump into it," Catalano said.